ADOT Kids Activity: 'Keep It Grand' art challenge!

EDITOR'S NOTE: During this unprecedented time, ADOT is creating transportation activities for kids. Please visit azdot.gov/ADOTKids or use the hashtag #ADOTKids on ADOT's Twitter, Facebook and Instagram accounts to see what we have going on.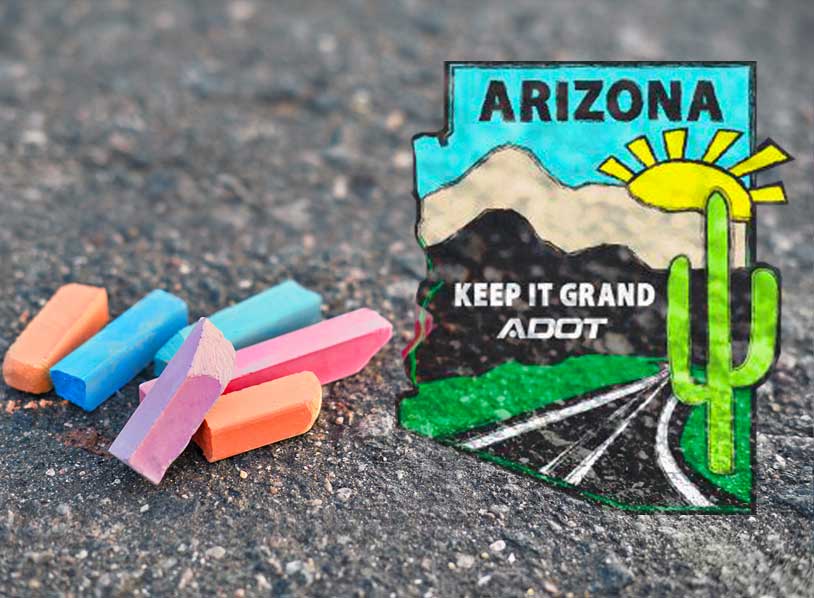 By Mary Currie / ADOT Communications
Everyone wants a litter-free Arizona. That's why we're challenging kids of all ages to create colorful reminders for everyone to keep Arizona and its highways looking grand. Join the fun by submitting a photo of a sidewalk chalk drawing – or another type of drawing – showing the Keep It Grand logo at right.
ADOT will add every picture we receive by 5 p.m. Wednesday, April 22, to a slideshow that will be posted on this page Friday, April 24. NOTE: We've added the pictures below, along with a video in which I answer your questions and feature your art.
Here's how to participate and share your art with the world:
Use the logo on the right for inspiration, then grab some chalk and draw the Keep It Grand logo on your driveway or wherever safe and permissible to do so. Feel free to draw and share your own Keep It Grand or anti-litter message as well. NOTE: Don't have sidewalk chalk? Not a problem! Any way you're able to create and share your drawing is just fine with us.
Send your photo to ADOT by email (

[email protected]

). We can't post photos of you with your art, but we'd love to show off your art. Feel free to share your photos with us using the hashtag #ADOTKids on Twitter (we're @ArizonaDOT), Facebook (/AZDOT) and Instagram (@Arizona_DOT).
Please send me your questions about ADOT's Adopt a Highway program, the problem of roadside litter and the Litter Hotline that I explain below. I'll answer them in a video while I also celebrate your art. It'll be posted along with the slideshow.
Challenge your friends to participate!
Show your love for keeping Arizona grand and remember to stash your trash during outdoor activities, no matter your method of transportation, until it can be properly disposed of.
If you'd like to learn more about what I do managing ADOT's Adopt a Highway progams, please visit azdot.gov/adoptahighway and this ADOT Blog post about yours truly. You also can explore ADOT Blog posts about our many Adopt a Highway volunteers, including student groups. And you can learn about our Litter Hotline, which allows people to report drivers they see trashing state highways. We send the vehicle's owner a letter explaining how litter harms Arizona and include a small litter bag to take along on trips. I'm happy to answer any questions you have about these subjects.
Video:
Slideshow: