ADOT's Safety Message Contest is back for the 7th time
ADOT's Safety Message Contest is back for the 7th time
By John LaBarbera / ADOT Communications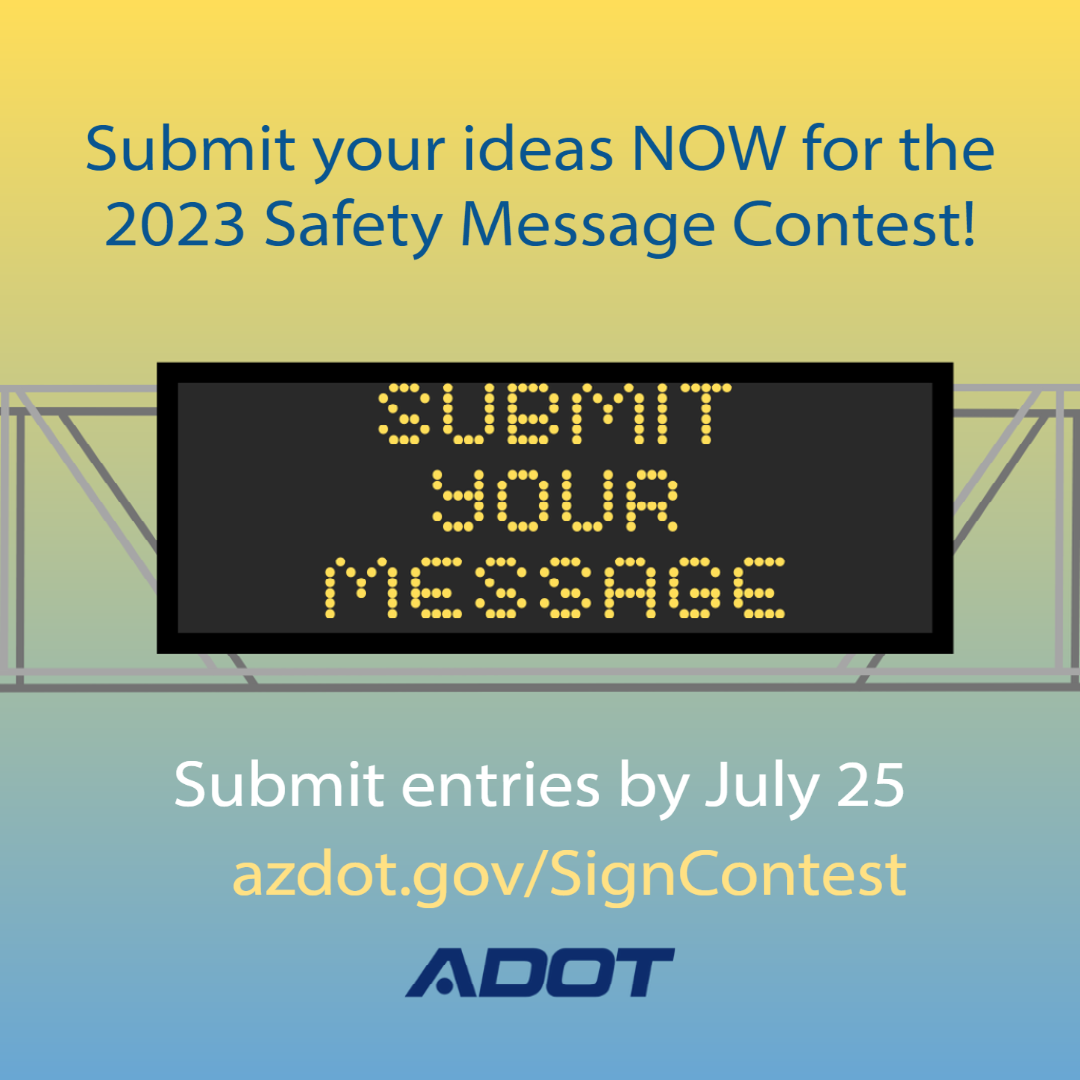 It's that time again, Arizona!
ADOT's Safety Message Contest is back for its seventh year and entries are open through July 25.
Have you ever wanted to see your traffic message on a Dynamic Message Sign (DMS) above the highway? Here's your chance.
First, some ground rules:
Messages must relate to traffic safety

Three lines per message

18 characters per line

No hashtags

No emojis

No phone numbers or websites
Got it? Great. Now, how will you enter this year's contest? Will it be a traffic pun? Will it be a rhyme? Will it be a warning about driving distracted? It's up to you!
Need some inspiration?
Here are winning messages from past contests:
2017
SINGLE IN HOV?
GET A REAL DATE
NOT A COURT DATE
THAT'S THE
TEMPERATURE - NOT
THE SPEED LIMIT
2018
CAMPING IN
THE LEFT LANE
ATTRACTS BEARS
BUCKLE UP
BUTTERCUP
ROAD RAGE
GIVES YOU
WRINKLES
2019
DRIVE LIKE THE
PERSON YOUR DOG
THINKS YOU ARE
DRINK & DRIVE?
MEET POLICE
& SEE NEW BARS
2020
SIGNAL AND
READY TO MINGLE
RED FISH
BLUE FISH
SPEEDING'S FOOLISH
2021
MISS YOUR EXIT?
IT'S OKAY
WE MADE MORE AHEAD
LIFE IS A HIGHWAY
I WANNA RIDE IT
WITH A SEATBELT ON
2022
DON'T HURRY
BE HAPPY
SIGNAL TO THE LEFT
SIGNAL TO THE RIGHT
MERGE REAL SMOOTH
There you have it! Hopefully that got your creative juices flowing. Submit your entry through Tuesday, July 25. And who knows? You could see your message in lights!