From the Archives: Winter weather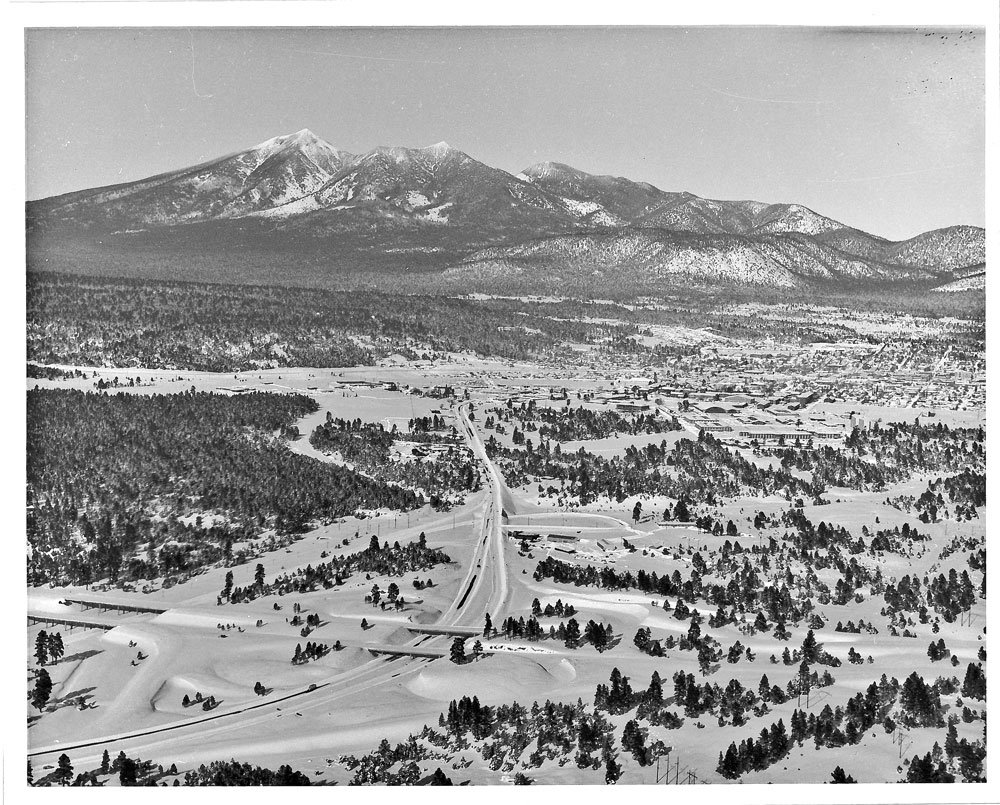 No, this photo wasn't taken today, although northern Arizona is currently seeing heavy snowfall. It's an aerial shot of Flagstaff from December 1967…
We found it in our archives and thought it'd be an excellent throwback/reminder for travelers who are facing the winter storm. Before we take a closer look at the picture, we want to point you to a few of ADOT's online tools designed to help modern drivers on state highways.
AZ511: Visit ADOT's Traveler Information Center (before you get on the road) at az511.gov for the latest highway conditions around the state. You can also use the site to view real-time images from along state highways that'll give you a glimpse of weather conditions in various regions. You can also call 511 – outside of Arizona dial 1-888-411-ROAD (7623) – for updates on highway conditions.
Know Snow: Plan ahead and visit our Know Snow page for lots of good information, including safety recommendations and tips to prepare your vehicle for a trip up north.
Twitter: ADOT's Twitter feed is extremely helpful for Arizona drivers. Get updates nearly round the clock (4 a.m. to midnight) directly from ADOT's Traffic Operations Center by following @ArizonaDOT.
OK, back to that photo. We can't zoom in close enough to see the snowplows on the road, but we do see some landmarks that are still familiar today.
Of course, the San Francisco Peaks haven't changed, but we also recognize some buildings from Northern Arizona University that are there now (don't squint too hard trying to find the J. Lawrence Walkup Skydome; it wasn't built until the 1970s). We think we see Sechrist Hall on the right hand side. It's one of the tallest buildings in northern Arizona and was practically brand new in this photograph, as the structure was dedicated in January 1967.
The highways in northern Arizona certainly have changed over the years. If you'd like to read a little on the history of I-17, revisit this blog post. For much more on Arizona's transportation history, be sure to check out this detailed report on our website.
It's safe to say things have changed since 1912 when the Arizona Highway Department was first established. But you don't just have to take our word for it … we've got plenty of pictures to prove it. We combed through our archives and decided to periodically post these photos from the past in a blog series we're calling, "From the ADOT Archives."