In Arizona, nothing from Nothing equals a ghost town
In Arizona, nothing from Nothing equals a ghost town
By Laurie Merrill / ADOT Communications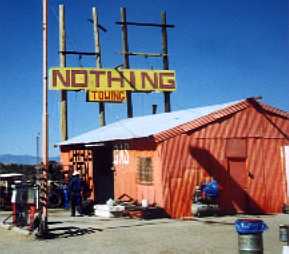 Does Nothing from nothing leave nothing?
It does, except in Arizona, where Nothing is a ghost town, and that's not nothing!
Its wind-weathered sign on US 93 between Wickenburg and Kingman is a faded reminder that Nothing's population – once a thriving 9 – is now, well, nothing.
Nothing might be more accurately described as a ghost settlement, since it never gained incorporated status. It was more of a wide place along the road about 100 miles northwest of Phoenix at milepost 148.5.
But during its heyday, Nothing boasted the "Taint Much Ado" bar, a store, taco stand and gas station. Richard "Buddy" Kenworthy built the businesses after settling the outpost in 1977. The place managed to snag some gamblers and other ramblers traveling between Phoenix and Las Vegas.
After a 1988 fire destroyed Kenworthy's businesses, he rebuilt the store and garage, but it wasn't enough to return Nothing to something.  Kenworthy moved on in 2005.
Nothing had a near revival in 2008. A businessman, Mike Jensen, took a liking to Nothing and set up a pizza stand with a portable oven. He even spiffed up the place up with the goal of creating accommodations for RVs.
But by 2011, he too had moved on. It's tempting to say nothing remained in Nothing, but the worn-out signs and collapsing structures are still there, providing a break in the scenery on the 128 miles between Wickenburg and Kingman. 
You could say it was all for Nothing, like the sign in Nothing:  
Town of Nothing Arizona. Founded 1977. Elevation 3269 ft.
The staunch citizens of Nothing are full of Hope, Faith, and Believe in the work ethic. Thru-the-years-these dedicated people had faith in Nothing, hoped for Nothing, worked at Nothing, for Nothing.