ADOT wins two TransComm awards
ADOT wins two TransComm awards
By John LaBarbera / ADOT Communications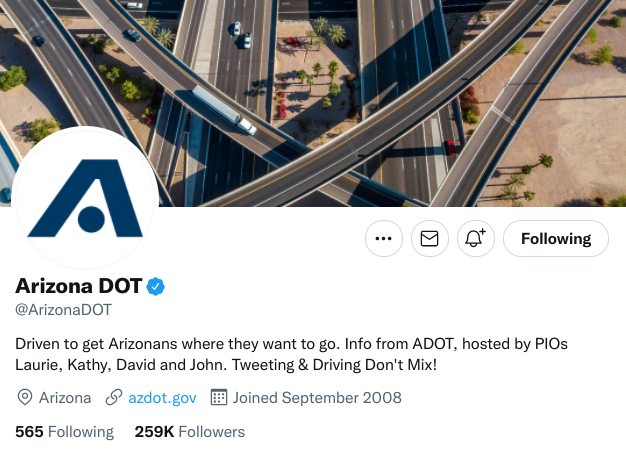 Please allow us to toot our own horn for a moment.
ADOT is proud to announce that we have won two TransComm awards from the American Association of State Highway and Transportation Officials!
Our Twitter account, @ArizonaDOT (give us a follow, won't you?), scored the top prize in the Best Use of Single Social Media Platform. With nearly 260,000 followers, ADOT's Twitter account not only provides up-to-the minute tweets on roadway conditions around the clock, but also delivers important information about upcoming highway projects and safe driving campaigns.
Twitter is staffed by a team embedded in ADOT's Traffic Operations Center. By coordinating with dispatchers and law enforcement, the team brings the motoring public accurate details about lane blockages and unplanned road closures in real-time, so drivers and their passengers can make the best decisions for their travel plans.
Throw in a quiz or two, some humor (when appropriate of course), and answering all the burning highway questions that come our way, and you've got a winning combination!
The second award bestowed unto us this year is for something you're reading right now. Yes, the ADOT Blog won Best Blog at the 2021 TransComm awards. And we couldn't be more delighted!
Since 2011, the ADOT Blog has delivered digestible bites of insight on a wide variety of topics. We started out as a place for stories about how highways were built and the people who were building them. In the last decade, the ADOT Blog has blossomed into so much more.
Over the past year alone, we've brought you pertinent updates on long-term highway projects, road trip recipes, tales about transportation history and personal stories about individual ADOT workers. Not to mention, of course, several important messages from our director, John Halikowski.
You can sift through the archive of the ADOT Blog's first ten years whenever you'd like right here.
Of course, none of this would have been possible without you, our Twitter followers and blog readers. Thanks for riding on this journey with us. We promise to continue being an informative and entertaining travel companion for years to come.