Awards validate ADOT's commitment to communicating with Arizonans
By Tim Tait / ADOT Communications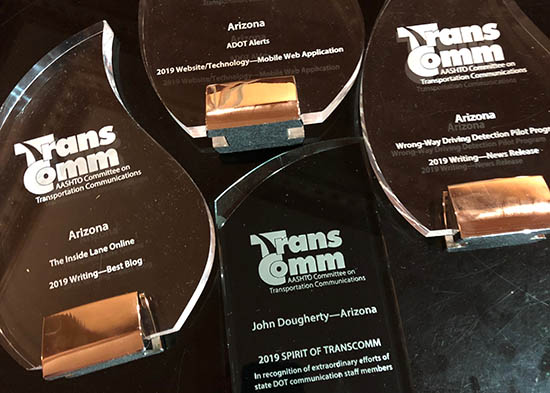 Those on my team at the Arizona Department of Transportation know I am hesitant to brag on our success as a group of communicators. It's not that I'm not proud of our achievements or excited at the recognition we receive. It's just, for me, our role is to promote and explain what ADOT does and highlight the people who make it happen. It's never about us.
But that is a disservice to the accomplishments of the ADOT Communications team.
ADOT is a member of the Committee on Transportation Communications of the American Association of State Highway and Transportation Officials. Yeah, that's a mouthful – we just call it TransComm. It's here where states compete in a peer-reviewed skills contest, with more than one hundred annual entries stretching from video, public involvement, events and other public relations tactics supporting transportation communication across the U.S.
This year, we brought home four TransComm awards: Best News Release (introduction of the innovative wrong-way driver detection system), Best Mobile App (ADOT Alerts), Best Internal Blog (the employee-focused "Inside Lane Online") and an individual award for Video Producer John Dougherty. This isn't a brag list – it's an illustration of the great work a team can accomplish when it's focused on customer needs/interests, service to the community, and working to always make the next project better than the last.
We are fortunate to have the encouragement of ADOT leadership and the resources required to support the mission of the agency. Across the state, we are working harder to collaborate with the community, provide graphics and maps and fliers that make sense and are easy to read, generate news coverage to help explain the what and why of our projects, encourage drivers to think about safety, and engage our employees in a culture of continuous improvement. And that's just a slice of what we do and where we find success. And here's the best part: We are not alone in this mission. Communicators at state transportation departments across the nation are working on these same public relations objectives.
The spirit of service is strong within ADOT Communications. That's what motivates us, and it is what helps us support an agency on a continual rise. Bringing home "hardware" is great but, for me, it only validates my commitment to serving the people of Arizona.