From the Director: Extending driver license renewals for older adults
From the Director: Extending driver license renewals for older adults
By John Halikowski / ADOT Director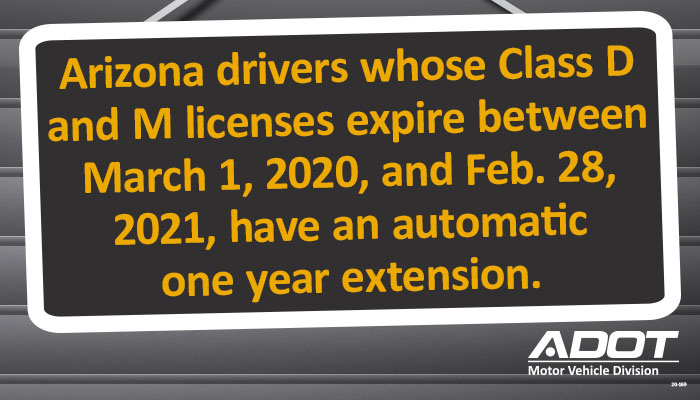 For many of us, thinking about renewing our driver license rarely crosses our mind. Sure, we  update it with a new address when we move and some change their name after getting married, but the first time most of us will actually renew our driver license is when we turn 65 years old.
For about 75,000 Arizonans, many of whom are making safe and healthy choices to limit time spent outside their home, renewing their license was a growing concern. Those 75,000 Arizonans – all of them older than 65 – would have seen their driver licenses expire in January and February of 2021. Fortunately, they can continue to focus their attention on their health and delay a trip to an Arizona Motor Vehicle Division office.
Recently, Governor Doug Ducey issued an Executive Order that deferred renewals of standard Arizona driver licenses with an expiration date between March 1, 2020, and Feb. 28, 2021, by one year from their original expiration date. This extension minimizes in-person visits to MVD offices for older adults and helps reduce the spread of COVID-19. That's something we can all support. 
Although many of us use online methods to update our driver license throughout our lives, state law requires that persons age 65 and older must come into an MVD office to renew their driver license every five years and obtain a new credential with a new photograph. MVD is working on implementing a variety of low-touch or no-touch service options, including the potential for online renewal services in the future.
Ensuring the safety of our employees and customers during the public health emergency has been a driving force in implementing contactless options for most MVD services. In April, we launched AZMVDNow.gov, which allows customers to complete more than 30 services, including common ones like registration renewal, change of address, title transfers, sold notices and more. 
The last year brought a lot of change in just about every aspect of our lives. When it comes to engaging with the MVD, through the improvements we've made to increase customer convenience, we think that change is for the better. As we prepare to spring into the new year – I know we're all eager to leave behind 2020 – I wish for everyone a healthy 2021.