From the Director: First-of-its-kind wrong-way detection system for AZ
By John Halikowski / ADOT Director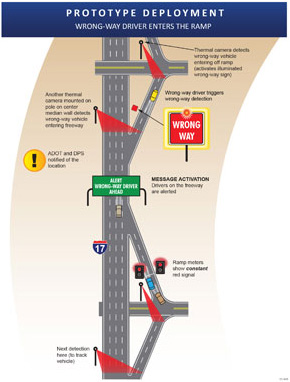 The Arizona Department of Transportation will be constructing a first-in-the-nation thermal detection system, to alert law enforcement and other drivers of wrong-way vehicles in Phoenix. The system will be installed first on Interstate 17 from the I-10 to Loop 101. Based on the performance of the pilot system, further expansion to other freeways in the Valley will be explored.
Here is how the system will operate. On freeway ramps, wrong-way drivers will trigger alerts including illuminated signs with flashing lights, aimed at getting drivers to stop. The system will immediately warn other drivers through overhead message boards as well as law enforcement. Cameras in the area will automatically turn to face the wrong-way vehicle so traffic operators can better track it. On the freeway, thermal cameras placed at one-mile intervals will signal when a wrong-way vehicles passes so State Troopers plan their response and get out in front of the wrong-way driver.
The advantages of this system begin with automatically alerting ADOT and DPS to wrong-way drivers at the point of entry and getting State Troopers to wrong-way vehicles faster rather than wait for 911 calls from other motorists.
ADOT engineers continue to study new technologies that promote highway safety for all users, including tools for detection, tracking and notification of wrong-way drivers. This new system being installed can reduce the risk, but it can't prevent wrong-way driving.
As I have said in previous posts, driving impaired, whether from alcohol or drugs, is selfish behavior and risks the lives of others. ADOT and our law enforcement partners can only do so much to tackle the problem of wrong-way driving. Statistics show the majority of wrong-way drivers are impaired. We all need to do our part in reminding family members and friends to be safe drivers behind the wheel; that includes not driving impaired.
---

This post originally appeared on ADOT Director John Halikowski's
LinkedIn page. He has led the agency since 2009.