Hashknife Pony Express saddles up for a historic ride along state highways
By Peter Corbett / ADOT Communications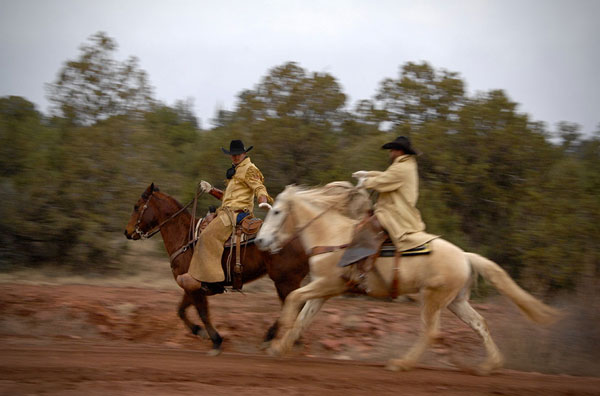 In an age when most messages get where they're going in a flash, the Hashknife Pony Express endures. This re-enactment has carried the U.S. mail from Holbrook to Scottsdale every winter for nearly 60 years.
We alerted motorists today that they may see these horseback riders along state highways from Wednesday, Feb. 8, to Friday, Feb. 10. The relay route travels along State Route 77, SR 377 and SR 277 to reach the post office in Heber-Overgaard; along SR 260 to reach the post office in Payson; and along SR 87 to reach the post office in Fountain Hills and, finally, the Arizona Canal, where they'll leave state highways and head west toward downtown Scottsdale.
You'll find a schedule and more information on the organizers' website: HashknifePonyExpress.com.
The Pony Express re-enactment, started by the Navajo County Sheriff's Posse in 1958, has each Hashknife cowboy galloping for a mile to pass along a mailbag to a fresh horse and rider. Their 200-mile route takes the mailbag from the high chaparral to the Sonoran Desert.
The Pony Express operated for 18 months in 1860-61 from St. Joseph, Missouri, to Sacramento, California, before the telegraph made the 10-day, 1,900-mile ride obsolete.
The Navajo County Sheriff's Posse, which shared the photo above, grabbed the reins nearly a century later to revive the short-lived Pony Express. The group touts the Hashknife Pony Express as the oldest such ride sanctioned by the U.S. Postal Service.