Have an opinion? We want to hear it!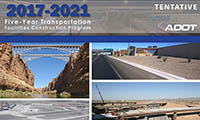 By Caroline Carpenter / ADOT Communications
There's no such thing as oversharing or TMI when it comes to ADOT wanting to hear your opinions and feedback.
The public comment period begins today for the Tentative Five-Year Transportation Facilities Construction Program for 2017-2021. The program, detailing how ADOT intends to invest in future transportation projects, has three sections: highways, regional transportation plans and airport improvements.
ADOT recommends speeding up the following projects because of additional funding through the Fixing America's Surface Transportation Act and a Transportation Investment Generating Economic Recovery (TIGER) grant.
Two Interstate 10 widening projects in Pinal County (State Route 87 to Picacho Peak and Earley Road to Interstate 8).
Two widening projects along US 93 and the State Route 347 railroad overpass project in the city of Maricopa. The SR 347 project received a $15 million TIGER grant and a $15 million local contribution to add to ADOT's $19 million commitment.
Public Hearings
In addition to a public hearing held today in Oro Valley, here are other events:
April 15, 2016 at 9 a.m.: Public hearing and board meeting in the ADOT Administration Building Auditorium, 206 S. 17th Ave., Phoenix.
May 20, 2016 at 9 a.m.: Public hearing and board meeting in the City of Flagstaff Council Chambers, 211 W. Aspen Ave., Flagstaff.
June 17, 2016 at 9 a.m.: Board meeting in the City of Holbrook Council Chambers, 465 First Ave, Holbrook.