Major reconstruction of Virgin River Bridge No. 6 to begin on I-15
Major reconstruction of Virgin River Bridge No. 6 to begin on I-15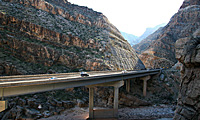 If you've got any upcoming travel plans in the far northwest corner of Arizona, you'll want to pay close attention to today's post.
That's because we have details on a reconstruction project set to start next week on I-15 and if you're headed that way, there are some things you will want to know.
But first, some project info…
ADOT starts an extensive rehabilitation project next week on Virgin River Bridge No. 6 (not to be confused with bridges 2, 3 or 7). Work will include the replacement of the bridge's superstructure (girders, deck and railings), as well as widening the roadway through the narrow passage of the scenic Virgin River Gorge.
The $27 million project at milepost 16, located approximately 20 miles south of St. George, Utah, is expected to take up to two years to complete. ADOT will begin setting up traffic control on Tuesday, March 25.
What drivers need to know
With limited alternate routes due to the remote location of the I-15 Virgin River Gorge corridor and a separate bridge deck surface project already underway on bridges No. 2, 3 and 7, ADOT urges drivers traveling between Mesquite, Nevada, and St. George to plan ahead, allow extra travel time, slow down and drive carefully through the work zone.
During construction, ADOT is committed to keeping at least one lane in each direction open during all phases of construction. I-15 will be narrowed to one lane in each direction at each of the bridge projects and delays are expected.
Motorists are encouraged to stay up-to-date with the latest highway conditions by visiting az511.gov or calling 511 (outside of Arizona, dial 1-888-411-ROAD).
For more information about these projects, please visit azdot.gov/I15virginriver.