New I-17 bridge at Central Avenue allowing for future advances
By Doug Nintzel / ADOT Communications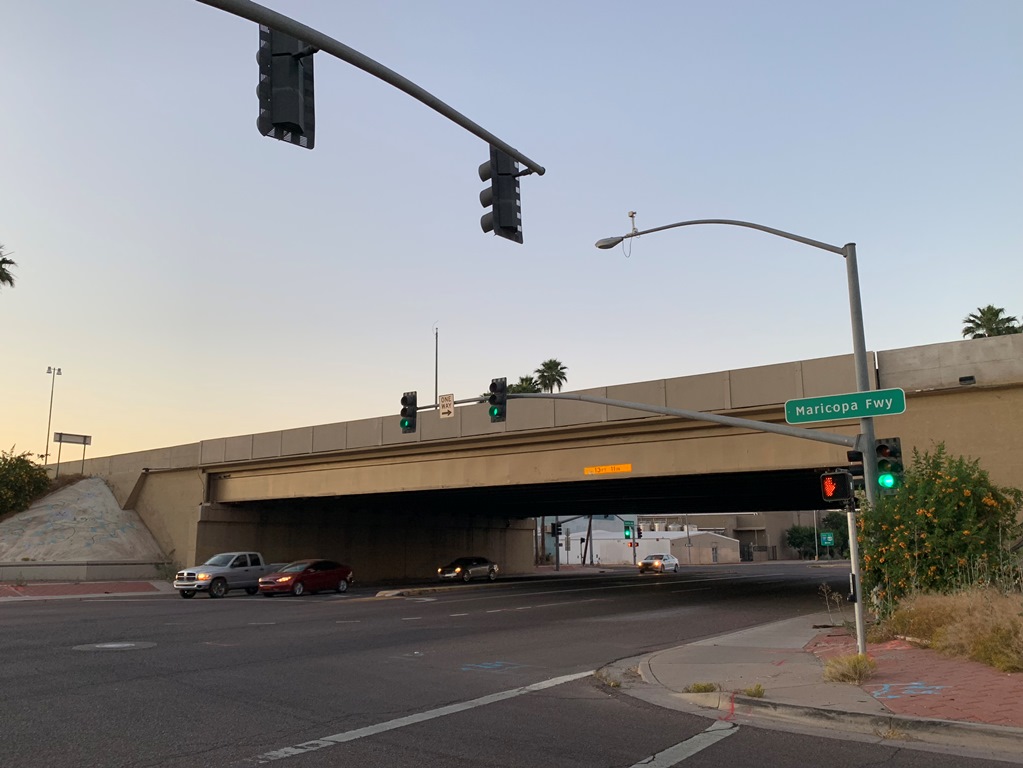 Work to build a new, larger Interstate 17 bridge over Central Avenue south of downtown Phoenix is now underway as ADOT and partner agencies look ahead to improvements beyond the freeway itself. But the progress also means drivers should consider using alternate routes, including Interstate 10, while the bridge reconstruction requires I-17 lane closures.
The current I-17 bridge, dating back to 1962, provides clearance of just under 14 feet for vehicles passing underneath it along Central Avenue. ADOT's $13.5 million project will provide a new structure with clearance of approximately 16 feet, which certainly helps with the movement of today's larger commercial vehicles as well as the variety of construction equipment that is often hauled on trailers.
Meanwhile, the timing of the I-17 bridge reconstruction has been coordinated with the city of Phoenix and Valley Metro, since the modernized bridge will allow the future Central Avenue light rail line to extend south of the downtown area.
If you're a driver who uses the stretch of I-17 between the I-10 "Split" interchange near Phoenix Sky Harbor International Airport and the I-10 "Stack" south of McDowell Road, you should plan ahead for lane restrictions now that a work zone is established in the area between Seventh Street and Seventh Avenue.
I-17 is now narrowed to two lanes in both directions approaching Central Avenue. By early June, additional work will be done to temporarily switch I-17 traffic to one side of the freeway so that the first half of the new bridge can be built. The freeway will operate with two lanes in each direction outside of times when closures or other restrictions are needed for work, mostly during overnight hours or on some weekends. That's why it might be a good idea to use I-10 as a way to travel beyond the I-17 bridge construction zone.
The entire project is scheduled for completion in fall 2021. Additional information is available at azdot.gov/I17CentralBridge.
When finished, the new I-17 bridge will have been widened enough to accommodate a future project to add auxiliary, or merge, lanes along the right shoulder of I-17 in both directions between the on- and off-ramps at Seventh Street and Seventh Avenue.
It's another step forward in what regional planners see as major improvements to help manage the traffic needs along one of the original backbone freeways in the Valley of the Sun.