Not all dust storms are the same
Not all dust storms are the same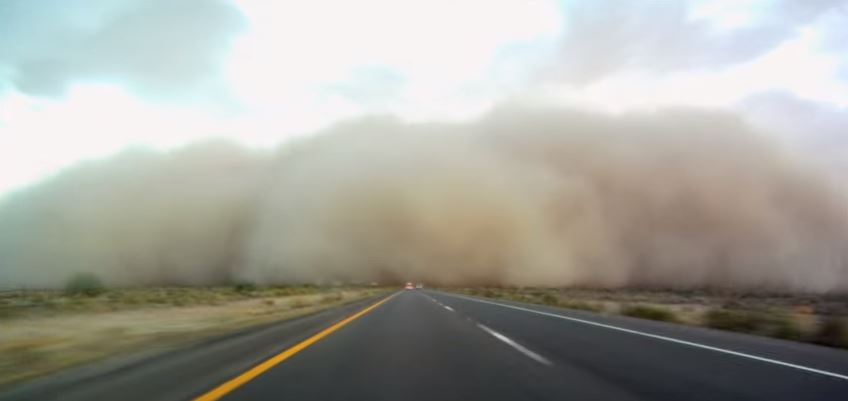 By Kira Frost / ADOT Meteorology Intern
If you've lived in Arizona very long, you've probably heard the terms dust storm and haboob a few times. You may not have known there are three different types of dust storms with unique characteristics.
Below are the three types of dust storms and their causes.
Winter storms: These storms are caused by strong winds over a large desert areas gusting dust up into the air, creating hazy conditions. These storms, which usually occur from winter to early spring, can reduce visibility and air quality.
Monsoonal storms: Haboobs originate from monsoonal storm activity and the severe atmosphere that also creates thunderstorms. This atmosphere causes a down draft or microburst of air that blasts downward, kicking dust into the air and creating a wall of thick dust. Haboobs can travel quickly and be as wide as 100 miles. Avoid travel when these strong monsoon storms hit.
Channelized Dust: This phenomenon is different that the two above, which can be predicted, seen and thus avoided. Channelized dust has proven more fatal and hazardous for Arizona highways because it can occur during any season and pop out of nowhere. When the right amount of forceful wind travels over dry deserts, a channel of dust can kick up and spiral across a highway, reducing visibility to nothing in mere seconds.
Since you may encounter these storms unexpectedly, you need to be prepared. ADOT's Pull Aside Stay Alive safety campaign aims to keep drivers safe when the dust blows.
Tips for drivers caught in a dust storm:
Avoid driving into or through a dust storm.
If you encounter a dust storm, check traffic immediately around your vehicle (front, back and to the side) and begin slowing down.
Do not wait until poor visibility makes it difficult to safely pull off the roadway – do it as soon as possible. Completely exit the highway if you can.
Do not stop in a travel lane or in the emergency lane; look for a safe place to pull completely off the paved portion of the roadway.
Stop your vehicle in a position ensuring it is a safe distance from the main roadway and away from where other vehicles may travel.
Turn off all vehicle lights, including your emergency flashers.
Set your emergency brake and take your foot off the brake.
Stay in the vehicle with your seat belts buckled and wait for the storm to pass.
Drivers of high-profile vehicles should be especially aware of changing weather conditions and travel at reduced speeds in high wind.
A driver's alertness and driving ability are always the top factors in preventing crashes. It is your responsibility to avoid distracted or impaired driving.
---
Editor's Note: ASU's School of Geographical Sciences & Urban Planning has partnered with ADOT to place graduate-level meteorology students in the ADOT Traffic Operations Center. This allows ADOT to have better information about weather conditions and more quickly determine how to deploy crews and communicate with the public.