Produce spill in the Deck Park Tunnel
Produce spill in the Deck Park Tunnel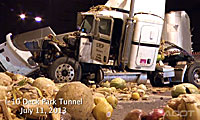 If you are a Phoenix-area commuter who travels daily through the Deck Park Tunnel, you're probably already aware that a produce truck spilled its contents yesterday afternoon as it headed westbound on I-10.
You might have heard about it, even if you don't take that route. Rotten produce spilling all over the road isn't something that happens everyday, so it's only normal that this got a little more attention than your average traffic incident.
Even if we can't predict what's going to happen out on the roads (who could have guessed our crews would be cleaning rotten fruit salad on a Thursday evening?), ADOT is ready to deal with whatever it is, as evidenced in the video above.
With the assistance of local emergency service departments, ADOT was out there to clear the road and assess the situation. Within hours, lanes were reopened and traffic was flowing again.
Luckily, no structural damage was caused by the crash, however the shoulder will remain closed until repairs can be made.