See for yourself the big announcement about I-17
See for yourself the big announcement about I-17
By David Rookhuyzen / ADOT Communications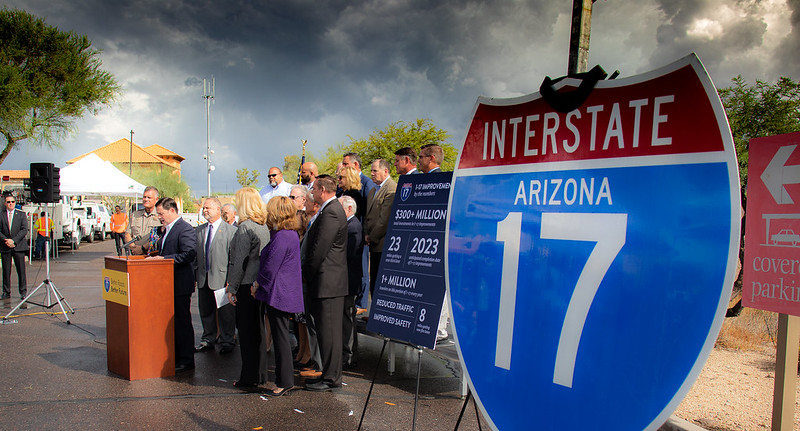 Sept. 26 was a big day, both for us and for everyone who drives on Interstate 17 north of the Valley.
As we said in a news release, Governor Doug Ducey, accompanied by ADOT Director John Halikowski, the heads of the state Department of Public Safety and state Office of Tourism, and business leaders, elected officials and transportation stakeholders, announced more than $300 million in improvements coming to the highway between Anthem and the Sunset Point Rest Area. These include adding a third lane in both directions on the 15 miles between Anthem and Black Canyon City and 8 miles of flex lanes on the grade between Black Canyon City and Sunset Point. 
This announcement stemming from state, local and federal partnership, including $130 million proposed in Governor Ducey's executive budget, came during an event in Anthem, just a stone's throw from where the freeway can see more 50,000 drivers on especially busy days such as the beginning and end of holiday weekends.
As you can see in the slideshow to the right, lingering storm clouds couldn't dampen our enthusiasm for this project, which is scheduled to start in 2021 and be completed in 2023.