Technology makes early dust detection possible for planned I-10 system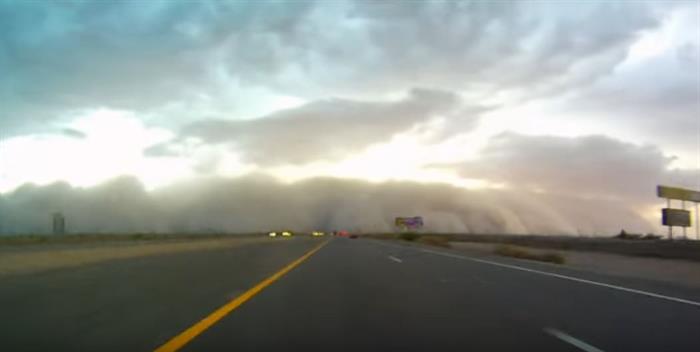 By Tom Herrmann / ADOT Communications
The plan: Use cutting-edge technology to identify when dust storms might be forming and let the public and media know when and where. Activate signs in the area where dust storms are most likely to encourage drivers to get off the road.
But this was 1973, and technology wasn't ready to keep up with engineers' imaginations. According to Desert Dust: Origins, Characteristics and Effect on Man, edited by Arizona State University geologist Troy Pewer, an analysis performed in 1975 showed that warning signs were unable to keep up with changing weather conditions.
"The time delay between field observation and sign activation or status change resulted in warning messages displayed when they were unwarranted, or no warning messages displayed when dust was blowing," he wrote. Even if the warnings had been accurate, many drivers ignored them: 66 percent reported that they made driving decisions based only on the weather outside their windshield.
A redesigned warning system in 1976 gave only general warnings and alerted drivers through announcements on three commercial radio stations. An analysis determined that, despite limited data, the warnings made it less likely drivers would be involved dust-related crashes.
Fast forward.
As Monsoon 2017 begins, ADOT is getting ready to seek bids for work on a pilot dust detection and warning system that will use many of the same principles as that 1973 program.
The difference this time: 21st century technology.
By late 2019 or early 2020, a 10-mile section of Interstate 10 near Picacho will have a detection system that will identify reduced visibility along the freeway and look into the distance for approaching storms. Warnings signs, overhead messages and reduced speed limits will activate automatically. Traffic operators will monitor the situation via closed-circuit cameras.
Just as in past decades, turning a good idea into safer freeways when dust blows will depend on what drivers do with the information. ADOT has been asking drivers to Pull Aside, Stay Alive since 2011, and that applies whether you're driving through between mileposts 209 and 219 on I-10 or anywhere else in Arizona.