Throwback Thursday: The way US 66 was
Throwback Thursday: The way US 66 was
By David Rookhuyzen / ADOT Communications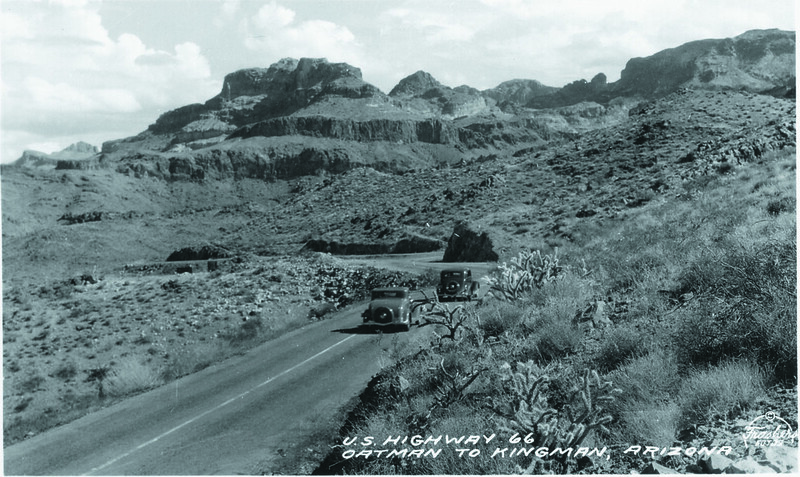 As you might have noticed by now, we do love our historical transportation photos. 
It's not really for their aesthetic value – though it's hard to mess up a shot of the inherently beautiful of Arizona's landscape - but rather what interesting tidbits we can glean from them.
Take today's example as two clearly older vehicles make their way down a twisty rural route that is marked as "U.S. Highway 66, Oatman to Kingman, Arizona."
The thing that caught our attention (and which might have caught yours as well) is that the road between those two communities today is not a US nor a state route. Instead, the Oatman Highway is a county road. But the photo clearly identifies this as part of the famous "Mother Road," US 66. So... what happened? 
To root out this puzzle we turned, like we so often do, to our exhaustive history of transportation in Arizona. Here we learn many of the basics of US 66's story: How the Arizona portion developed out of the National Old Trails Highway in the 1910s and the Santa Fe Highway in the 1920s, how many followed it west in the 1930s in the mold of "Grapes of Wrath," and how following World War II it became a main route to carry vacationers and job-seekers alike between Chicago and Los Angeles, and how it was finally decommissioned in Arizona in 1985. 
Finally, after much digging, we found what we were looking for. In the early 1950s an improvement project rebuilt 170 miles of US 66 in the state to help undo the damage from the hordes of vehicles that now used it. As part of these improvements, US 66 was routed away from Oatman in 1952. The new alignment was meant to eliminate a twisty, hazardous section of highway and replace it with something safer. It would turn out to be one of the earliest of many realignments away from communities in coming years as the interstate system came into being.
That's just one bit of highway history that we could glean from this photo. As you might have noticed from our Throwback Thursday series, there's a lot more to be found in our archives. If you are also interested in learning more about Arizona's roads, feel free to take a deep dive through our albums of historical photos on Flickr!