Throwback Thursday: Zooming ahead on US 60
Throwback Thursday: Zooming ahead on US 60
By David Rookhuyzen / ADOT Communications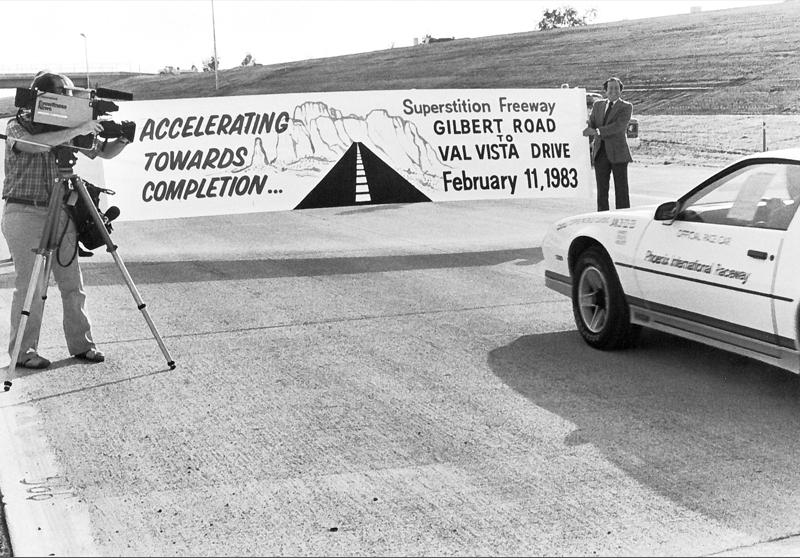 Today we are throwing back to Feb. 11, 1983, and a milestone for US 60 (Superstition Freeway), a main link between the East Valley and Phoenix.

As you can clearly see in this photo, that's the day when the 2-mile segment between Gilbert Road and Val Vista Drive in Mesa officially opened. According to the March 1983 edition of Newsbeat, ADOT's employee newsletter at the time, about a hundred people attended the ribbon-cutting for this expansion of the freeway.

The Newsbeat article also tells us that the guy holding up the large "Accelerating Toward Completion..." sign is Larry Hecker, who was the chair of the State Transportation Board. The person holding the camera labeled "eyewitness news" is from KTVK/Channel 3. And the person in the Phoenix International Raceway official race car? Believe it or not, that's former Governor Bruce Babbitt behind the wheel.

Though it was without a doubt an exciting moment, the freeway had to come a long way before then and still had a long way to go after. The first part of the Superstition Freeway, then dubbed "AZ 360," had been completed between Interstate 10 and Mill Avenue in 1971. It would take four expansions and a decade to make it to Gilbert Road.

In 1991 the freeway would finally make it out to Apache Junction, where it hit US 60 coming from Superior. It was also around this time that the "AZ 360" label was discarded and US 60's official alignment moved to the Superstition Freeway instead of the Main Street/Apache Boulevard/Mill Avenue/Van Buren Street route it had traditionally taken through Mesa, Tempe and Phoenix.

But all that was still well in the future when this photo was taken, and for now we'll leave Governor Babbitt to his test drive of the Valley's newest freeway segment.