Transportation Defined: Bid-Well
Transportation Defined: Bid-Well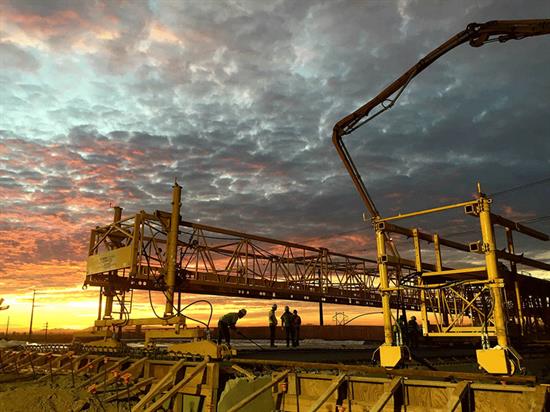 By David Rookhuyzen / ADOT Communications
During recent work for the future South Mountain Freeway, crews poured the equivalent of 60 dump trucks worth of concrete into a steel-reinforced deck for the flyover ramp that will eventually connect with Interstate 10 west of downtown Phoenix.
While that work is fascinating in and of itself, for our purposes it's a convenient segue to talk a piece of machinery known as a Bid-Well.
Put simply, different models of Bid-Wells are a concrete finishing machines typically employed for this type of bridge cement pour and used to ensure a flat deck surface. The picture above shows one in use while crews were doing similar South Mountain Freeway work at the 40th Street interchange.
According to Kole Dea, an ADOT senior resident engineer who is overseeing the construction of the freeway's Papago segment, a Bid-Well "is a self-propelled piece of equipment that finishes cast-in-place concrete to a smooth, uniform finish. The roller travels back and forth to achieve this."
The ends of the machine, between which the roller moves back and forth, typically is traveling forward on rails which are attached to a bridge's girders or the temporary bridge structure, Dea said.
The tweet below shows a Bid-Well 4800 smoothing cement during a 2016 deck pour at the I-10 Davidson Canyon bridge east of Tucson.
Pouring and smoothing concrete at @ArizonaDOT Davidson Canyon Bridge project, I-10 east of Tucson. pic.twitter.com/oijHaUEK5X

— Steve Elliott (@elliott602az) April 21, 2016
A YouTube search will bring up other videos of Bid-Wells in action.
And next time you travel over the smooth surface of a freeway bridge, maybe bid the Bid-Well thanks for a job well done.
Transportation Defined is a series of explanatory blog posts designed to define the things you see on your everyday commute. Let us know if there's something you'd like to see explained ... leave a comment here on the blog or over on our Facebook page!