Vote for your favorite in the Safety Message Contest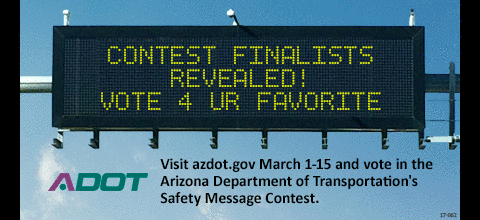 By Doug Pacey / ADOT Communications
Voting has begun.
Earlier this week, we revealed the 20 finalists and opened voting in our Safety Message Contest. Did your message make the cut?
Selecting the finalists wasn't easy. It took close to a week to read through the nearly 7,000 submissions and whittle the list to 20 finalists. The list has variety – funny, punny and serious – and we think everyone will find something appealing.
Voting is open March 1-15 and we'll announce the winners – the top two vote-getters will appear on overhead signs – in April.
If your entry didn't make the list of finalists, there's still a chance it can find its way to an overhead sign. We have already scheduled a contest entry related to an event this month to appear on signs in March and will consider others throughout the year.