Watch out for this Sasquatch along US 60
By Laurie Merrill / ADOT Communications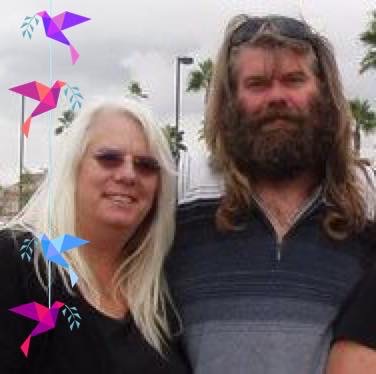 This was a name that got us all wondering: Sasquatch.
Sasquatch? Isn't that another name for Bigfoot, the mythical hairy man-like ape creature said to exist in the Pacific Northwest?
So when we heard that a highway mile had been named in reference to Bigfoot, we had to learn more.
To start with, yes, we have a mile of US 60 named Sasquatch! It's east of Show Low from milepost 347 to 348. Linda Philbrook and friends clean it twice a year as part of ADOT's Adopt a Highway program.
The official sign reads "Sasquatch Marc Philbrook, we love you." The stretch is named after Linda's husband, Marc Philbrook, who passed away in 2011.
"He looked like Sasquatch," Linda said. "He was a great big guy with a great big beard and big head of hair."
That's him in the photo to the right, so you can judge the resemblance for yourself.
The origin of nickname stretches back years, coming from a visit he made to White Mountain Radio, where Linda works. Marc walked in, and one of Linda's colleagues took one look before saying, "Sasquatch."
The name stuck. The family even owned a business for a while called "Sasquatch Mobile Auto."
Linda and her two children live in Vernon, about 10 miles away from Marc's sign. Originally from southern California, the family of four relocated to Arizona in 2003 after Marc fell in love with the Show Low area.
Linda said she got the idea to adopt a mile in her husband's honor because she noticed the Adopt a Highway signs on her travels.
"I decided, let's see what's available. I knew the mile I wanted. I wanted the sign at the top of the hill on US 60 at milepost 348. The view is unbelievable," she said. "It's a really gorgeous part of US 60. It's got really pretty mountain purple flowers. I know he'd love it."
The Philbrooks aside, we in ADOT's Communications Office may or may not be believers in the cryptid's existence, after having our own Sasquatch "encounter." That led to this headline-making photo we posted on Facebook in 2015.
Captured by one of our rural cameras, the image depicted a wintry scene with snow on the highway shoulder – along with some unusual blurry black shapes, as is traditional for all Bigfoot photos. So we asked "We might have spotted a family of Sasquatches on SR 260 near Heber this afternoon. What do you think?"
The post spread like wildfire and became a social media sensation. It was shared more than 4,800 times and generated nearly 2,000 comments. You can read more about it in a blog post we made at the time.
As for Linda, she and a core group of friends, the "Sasquatch Seven," honor Mark's memory by regularly cleaning his mile. In between times, Linda likes to dress up her sign seasonally. Come Halloween, you might see ghosts and monsters on it, for St. Patrick's day, green leprechauns and such, and so on for Christmas and the other holidays.
"I decorate it and take care of it," Linda said. "Everyone who drives by tells me they love it!"
To learn more about the Adopt a Highway program, please click here.