What's in a name? The reason behind I-17's interstate designation
What's in a name? The reason behind I-17's interstate designation
By David Rookhuyzen / ADOT Communications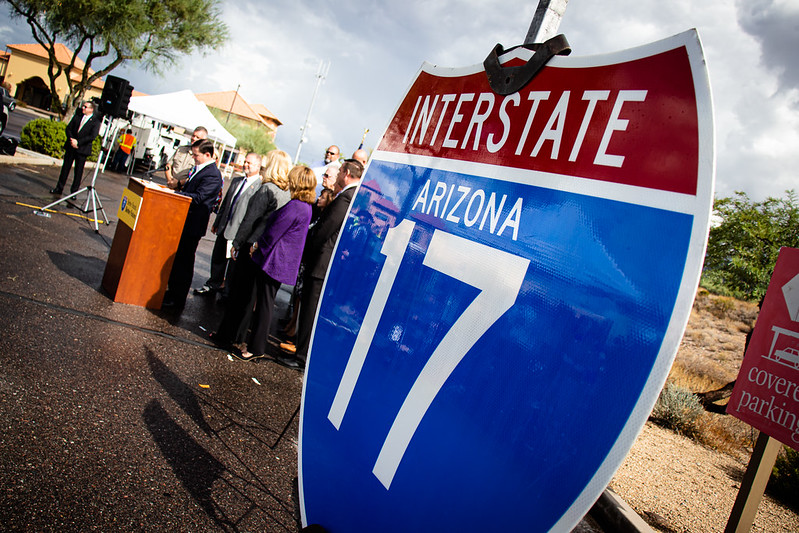 It's a question that occasionally pops up on our social media feeds: Why is it called Interstate 17?
And it's not the "17" part they are asking about.
Rather, it's the fact that all 147 miles of highway runs between Phoenix and Flagstaff ... and that's it. How can it be called an "interstate" when it never reaches outside of Arizona? The same question can be asked about Interstate 19, which runs 102 kilometers (63 miles) between Tucson and the international border.
If we went solely off Webster's definition of "interstate," it admittedly doesn't make much sense. But when we talk about interstate in terms of highways, we have to turn to a different criteria. 
According to the Federal Highway Administration, the Federal-Aid Highway Act of 1956, which created the system, called for uniformity in construction standards. These standards were developed by the American Association of State Highway Officials (now the American Association of State Highway and Transportation Officials or AASHTO) and are the benchmark for any highway that wants to be an interstate. The metrics include having controlled access, design speeds of 50 to 70 MPH depending on terrain, a minimum of two travel lanes in each direction, 12-foot lane widths, a 10-foot right shoulder, and a 4-foot left shoulder.
And the criteria for adding another highway to the system is also straightforward: it must meet the interstate standards, be a logical addition or connection, and be coordinated among all jurisidictions it will pass through.
The Federal Highway Administration also has a fantastic page dedicated to debunking myths about the interstate system. There the agency specifically address highways that don't ever leave their state of origin.
"The key," according to the Federal Highway Administration is "each highway must meet Interstate standards, be a logical connection to the interstate system, connect to an existing route or be a congressionally designated future interstate corridor that eventually will connect on at least one end." 
This definition is why you'll see interstates that are beltways around large metropolitan areas or in places such as Hawaii, Alaska and Puerto Rico that cannot connect to other states. It's also why I-17 and I-19 both can be called interstates.
Though they don't go anywhere nearly as far as I-40 or I-15, both I-17 and I-19 have fascinating histories that can give additional insights into these intrastate interstates.