Yesterday and Today: Driving on Interstate 17
Yesterday and Today: Driving on Interstate 17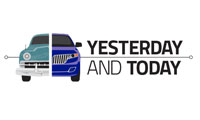 Can you spot all the differences in the two photos above?
The photo on the left was taken 42 years ago in March 1973, and the one on the right was snapped just earlier this month. If you're familiar with the area, you'll recognize that both images are of Interstate 17 near McDowell Road in Phoenix.
Right off the bat, we see that there are now several new lanes along this stretch of freeway, along with an HOV lane. We also spy a slight difference on the roadway itself – notice the reflective striping and pavement markers used today vs. the "button" pavement reflectors used in the 1970s.
How about that signage along the freeway? Much of it has changed, but we can see that the Shamrock sign many of us are familiar with is still there today … it's just been modernized.
The lights are different and so are the vehicles, but in both photos, it is obvious that plenty of people have places to go and they're using the freeway to get there. Of course, back in 1973 drivers didn't have ADOT's Twitter feed, Facebook page or az511.gov to keep them informed. In the 1970s, email wasn't really a thing yet, so drivers didn't have the Weekend Freeway Travel Advisory emailed to them each week either. Can you even imagine what drivers will have in another 42 years?
---
We love featuring vintage transportation-related photographs on this blog, but we also like to focus on how things have improved and changed over the years. That's why we thought it'd be fun to compare the old to the new in a series we're calling, "Yesterday and Today."