You can still drive over this important bridge near Bisbee
You can still drive over this important bridge near Bisbee
By Kathy Cline / ADOT Communications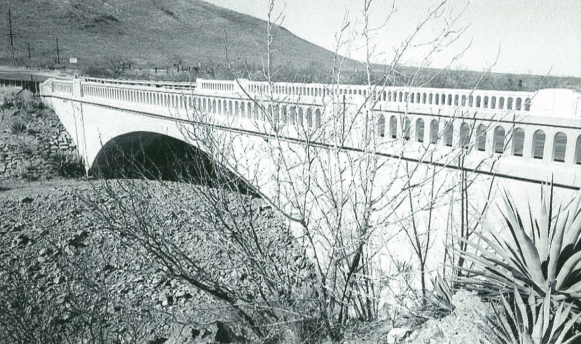 It might not look like much, but the Lowell Arch Bridge is a very important piece of Arizona's highway history.
In 1910, the Arizona Territorial Engineer's office completed the design and survey for the Bisbee-Douglas Highway, a 22.7-mile highway between ... well, the name says it all. This road was a vital link between the copper mines of Bisbee and the Phelps-Dodge smelter in Douglas. Indeed, it was the most expensive road project the Arizona Territorial Assembly had ever approved, costing nearly $78,000 at the time.
And the most important crossing on the highway was the Lowell Arch Bridge, a 60-foot-span, 16-foot-wide roadway over Mule Gulch, about six miles east of Bisbee. The contract for the bridge and that section of highway was awarded in October 1910 to the company R. Toohey and Sons out of Phoenix. The firm completed the work in December 1911, producing a bridge that featured more than 156 cubic yards of concrete, with an elliptical arch made from reinforced concrete abutments and guardrails.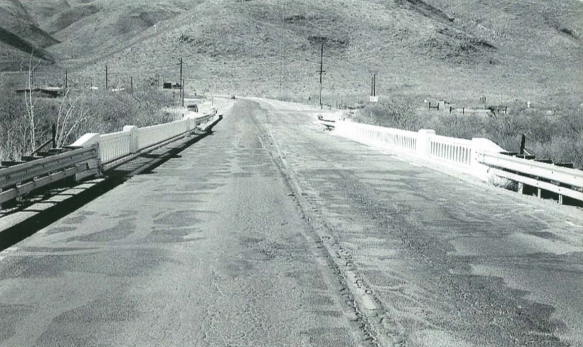 In coming decades the Bisbee-Douglas Highway would become part of US 80, the important southern cross-country route that ran between Savannah, Georgia and San Diego. Though US 80 itself would be decommissioned in the late 1980s, this section still remains part of the state highway system as State Route 80.
The only alterations made to the Lowell Arch bridge since its original construction came in 1934, with the widening project on US 80. The work, completed for just under $36,000 widened the bridge considerably, as well as extending the abutments and wingwalls. Since then, the bridge continues to carry traffic on SR 80 with no further alterations.
The Lowell Arch Bridge not only played a very important role in Arizona's copper-mining industry, it was one of just two concrete arch bridges built by the Territorial Engineer (the other, in Tempe, is gone). And, unlike some other historical bridges we've featured on this blog, its still one that you can drive across today as part of a state highway.
If that isn't excuse enough to drive between Bisbee and Douglas, we don't know what is.