Paving begins on future US 89 interim detour route
Navajo Route 20 closed until work is complete
June 17, 2013
PHOENIX — Paving has begun on the shorter, future interim detour route for motorists affected by the US 89 landslide closure south of Page, but traveling on Navajo Route 20 is not an option until construction is completed later this summer.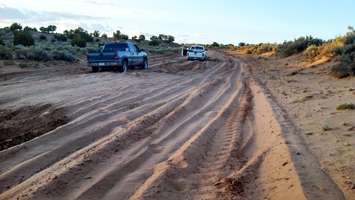 Several vehicles have become stuck in the sand along this 44-mile-long tribal route, which is a mostly dirt road that stretches from Bodaway-Gap to LeChee, and there is limited cell phone coverage in the area. Currently, only local Navajo Nation residents are permitted to travel on N20.
After breaking ground on this Arizona Department of Transportation project in late May, crews have been clearing debris and brush off the roadway, grading and installing water lines in preparation for paving work.
Paving N20 will significantly reduce travel time for motorists heading to and from Page and the Lake Powell area. Currently, the primary detour is to take US 160 to State Route 98, which is approximately 45 miles longer than the direct route. The new detour route will shave half the distance and time to get to Page.
When paving is complete, N20 will be temporarily adopted into the state's highway system and designated Temporary US 89 (US 89T). After the reconstruction of US 89 is complete, the newly paved US 89T will be returned to the control of the U.S. Bureau of Indian Affairs.
The $35 million project is eligible for reimbursement through the Federal Highway Administration's emergency relief program, which provides funding to state and local agencies for the repair or reconstruction of highways, roads and bridges that are damaged in natural disasters and catastrophic failures. ADOT has already been awarded $35 million in federal aid, including $2 million in quick release funds to assess the damage and the stability of the mountain slope, and conduct emergency operations.
US 89 has been closed north of Bitter Springs and south of Page since Feb. 20 due to a landslide that buckled pavement on the mountain slope in the Echo Cliffs. There is no timetable for reopening the damaged highway but ADOT is committed to restoring this critical travel route as soon as safely possible.
ADOT has completed its geotechnical field investigation, which is the first phase of the solution. ADOT's engineers are currently reviewing options for the ultimate repair of US 89, which will be based on the results of the geotechnical work that began shortly after the landslide.
ADOT has launched a range of communication tools, including a Web page dedicated to keeping the public informed about the status of the closure and alternate travel routes, complemented by up-to-date video and photos of the roadway damage on US 89.
Motorists with questions can write to [email protected] or call toll-free 855.712.8530.