ServiceArizona kiosks available at Glendale and Pima County courthouses
ADOT increases options for accessing motor vehicle services
July 21, 2016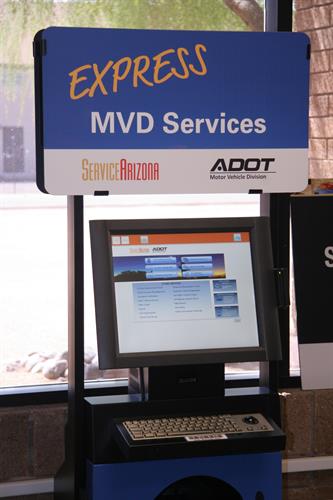 PHOENIX – The Arizona Department of Transportation Motor Vehicle Division continues to expand its reach with two more courthouses in Glendale and Pima County receiving ServiceArizona kiosks. These kiosks make it easier for Arizonans to conduct business without visiting an MVD office.
The kiosks, which have the same functionality as the ServiceArizona.com website, offer more than 20 motor vehicle services such as accessing a driving record and renewing vehicle registrations. Most kiosks, including these latest ones, can print vehicle registrations and plate tabs for registration renewals.
Glendale and Pima County are the sixth and seventh courthouses to receive ServiceArizona kiosks in the past 15 months, following Surprise, Scottsdale, El Mirage, Paradise Valley and Phoenix. There also are kiosks in 23 MVD offices around the state, with plans to roll out more over time.
"Installing ServiceArizona kiosks at community centers like courthouses makes a lot of sense," said Motor Vehicle Division Director Eric Jorgensen. "Our goal is for people to easily access the motor vehicle services they need wherever they are."
Other motor vehicle services available through ServiceArizona.com and kiosks include ordering duplicate a driver license or ID card and ordering specialty license plates.
For more information, visit azdot.gov/mvd and ServiceArizona.com.