$5 million in grants available from ADOT's Safe Routes to School program
$5 million in grants available from ADOT's Safe Routes to School program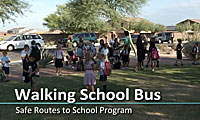 A new school year is in full swing and now is the time for Arizona educators to take advantage of the $5 million in grants available from Safe Routes to School!
Safe Routes to School is a federally funded program that's administered in Arizona by ADOT. Grant money is annually distributed to schools, districts, tribal communities, municipalities and nonprofit agencies that successfully outline projects designed to help remove the barriers preventing students from safely and conveniently walking or biking to school (You can read more about the program in our June blog post).
Grants are awarded for things like bike racks, crossing signals and even traffic circles and speed humps. Non-infrastructure projects are eligible, too. Just take a look at the video above for some inspiration!
"The goals of the Arizona Safe Routes to School program are to get the funding in the hands of people who want to do good things like this, who care about their kids' health, who want to get their kids out and give them extra opportunities for physical activity. Because nationwide health statistics are showing that children are obese," said ADOT's Safe Routes to School program coordinator Brian Fellows in the video above.
ADOT is currently accepting applications for its latest cycle of federal grants to implement Safe Routes to School programs in schools and communities around the state. The applications for this cycle must be submitted by Dec. 30.
In addition to the $5 million in federal grants that are available through ADOT's Safe Routes to School program, the National Center for Safe Routes to School is now accepting applications for 25 mini-grants of $1,000 each. Mini-grants fund activities that range from the nuts and bolts that help start or sustain a Safe Routes to School program to new ideas that enable and encourage children to safely walk and bike to school. Applications for the mini-grants are due Oct. 19.