511 Logo Signs: Build your brand – and a road
511 Logo Signs: Build your brand – and a road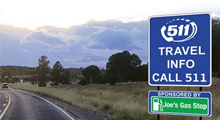 By Tom Herrmann / ADOT Communications
By now, Arizona drivers are accustomed to seeing blue signs along our highways that let us know what services are available at the next exit.
This summer you will begin seeing new blue signs with a new message for travelers but the same positive impact on local businesses and Arizona roads.
Instead of identifying local businesses like the current signs, the new 511 Logo Signs will remind drivers that highway information is available by calling 511.
For businesses, the signs represent an opportunity to gain exposure 24 hours a day and promote their brands along state highways. Sponsoring businesses – categories eligible to participate include food, gas, lodging, camping, attractions and 24-hour pharmacies – will have the area to themselves. Each sign will carry only one sponsor.
The signs will be posted first in the Phoenix and Tucson areas, then expand to Yuma and Flagstaff and later to other areas around Arizona.
As beneficial as the signs will be for the businesses represented on them, they may be just as much of a boost to the state. Proceeds from the program will go to the Arizona State Highway Fund to repair and maintain roads. The original blue signs have raised more than $6 million for that purpose over the past decade. And while it's too early to predict the economic impact of the new program, every dollar in proceeds mean a dollar less is needed from state taxes to improve Arizona roads.
Business owners are invited to contact program representatives at 855.712.4500 to discuss their needs and potential signage solutions. Interested business owners can learn more about the program at 511LogoSigns.az.gov.
To see ADOT's newly redesigned Arizona Traveler Information website, please visit az511.gov.