Adobe building restoration is part of SR 80 project
Adobe building restoration is part of SR 80 project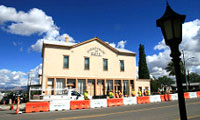 When it comes to dirt, the ADOT Blog has you covered.
We've shown you how we move it, we've told you the ways crews use it in construction, we've explained the tests that are performed on it and even why it sometimes gets "painted" green.
But today we're talking about a project that takes dirt to a whole new level and utilizes it as a building material…
Right now, crews are working on a safety and enhancement project on SR 80 in the city of Tombstone. The project includes the restoration of some elements along the highway, known locally as Fremont Street, where it runs through the city's historic district.
Part of the work includes the restoration of a porch on the city-owned Schieffelin Hall, a former theater and ballroom built in 1881.
Since Schieffelin Hall is an adobe structure, crews are using dirt to make new adobe bricks that'll replace the water-damaged bricks at the base of the building.
ADOT projects don't typically include this type of restoration and architectural work, but as ADOT Historic Preservation Specialist Sara Ferland explains in the video, Schieffelin Hall is unique.
"For federally funded projects, we have to identify historic properties within or adjacent to the right of way that might be impacted by the project. For restoration and rehabilitation you have to use matching historical materials whenever possible," Ferland said.
More about the project
The restoration work is just a part of this $1.1 million improvement project. Crews will also replace the sidewalk in a three-block area in front of Schieffelin Hall, and along both sides of SR 80/Fremont Street. To make the street more pedestrian friendly, ADOT will narrow the width of the street and add lighting within the project area.
Work also includes
constructing new concrete sidewalks and ADA-compliant ramps.
installing new landscaping and an underground irrigation system between the new sidewalk and new curb on both sides of SR 80.
removing the functionally obsolete pedestrian bridge, which is located at the east end of the project limits at the old Tombstone High School campus.
narrowing the existing roadway from 68 feet wide to 44 feet wide by saw-cutting and partially removing the existing asphaltic concrete roadway.
removing and replacing existing pavement in the project area.
constructing new curbing and driveways.
replacing, relocating or removing existing signs to maintain appropriate distance from the roadway.