Adopt a Highway: Memories from Tucson to Show Low
Adopt a Highway: Memories from Tucson to Show Low
By Mary Currie / ADOT Communications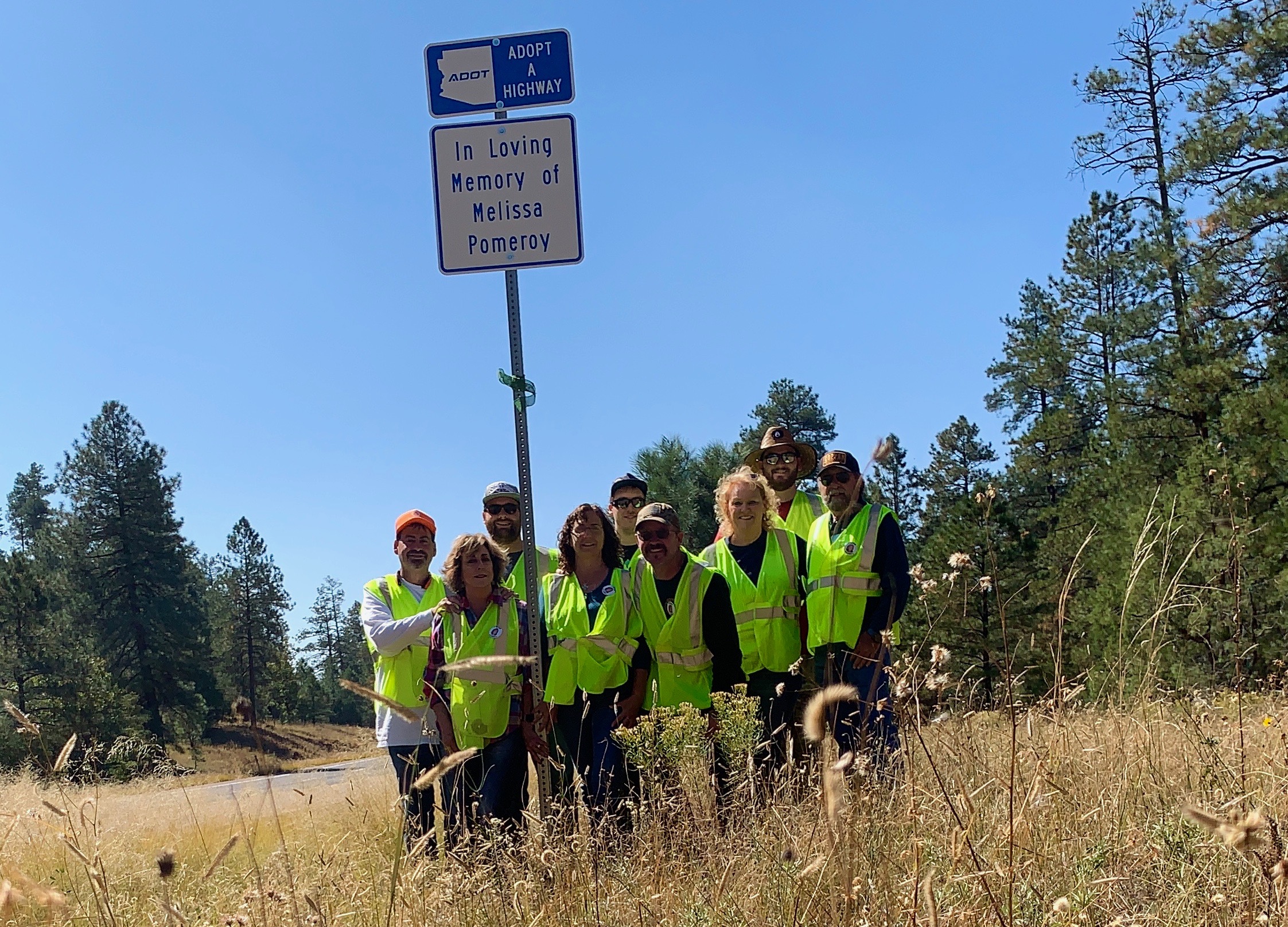 EDITOR'S NOTE: ADOT asks volunteers to limit group sizes and to respect guidelines for social distancing during group cleanups, as recommended by the Arizona Department of Health Services and the Centers for Disease Control and Prevention.
If you are traveling northbound toward Show Low on US 60, watch for a mile dedicated to Melissa Pomeroy greeting motorists at mileposts 334-335. "We picked the closest segment coming into Show Low from Tucson that was available," says Michelle Keith, Melissa's twin. 
Melissa called this part of the White Mountains home, even though the sisters grew up in Tucson. Together, they spent summers at the family's second home. Michelle recalls her sister's love of Show Low, and the seasonal changes on the Rim. Melissa loved the big trees and the snow, so much so, that she moved to Show Low after college. She got married and raised her family in Show Low while working as a teacher at the local elementary school.
When Melissa unexpectedly passed in 2014 at the age of 48, one of Michelle's worst fears was that her sister would be forgotten. The highway cleanup is just a little way to keep Melissa's memory alive within their family. Michelle often runs into people who say, "I saw your sister's sign today." Those words bring a comforting reminder to Michelle that her beloved sister's memory remains bright and that this sister's love will never fade. 
Since 2018, Michelle has participated in the Adopt a Highway Volunteer program and organizes cleanups a couple times a year, mostly with family members. About 190 miles separates Tucson from Show Low, but uniting to remember Melissa brings people together several times a year. "We all have a good time doing it," Michelle says. "Melissa was proud of Show Low."
If you are interested in caring for a segment of highway in memory of a loved one, please visit the Adopt a Highway website to learn how. View the map to see which segments are available for adoption.