Adopt a Highway: Mom would be proud! Students reduce litter along US 191 in Morenci
Adopt a Highway: Mom would be proud! Students reduce litter along US 191 in Morenci
By Mary Currie / ADOT Communications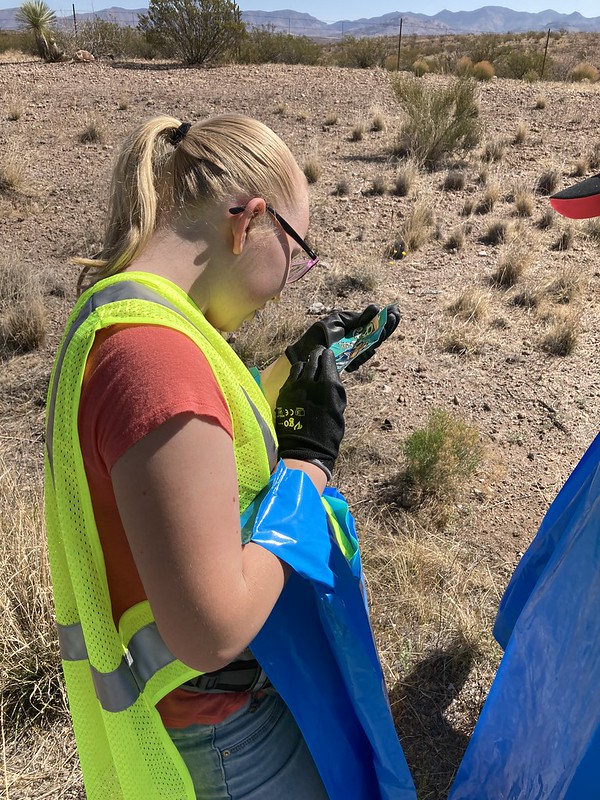 National Volunteer Week officially came to a close April 24, but there is no cutoff date to recognize 15 students, parents and faculty who showed up on a Saturday morning to collect litter in their hometown of Morenci.
On April 10, smiling faces representing the Fairbanks Middle School Science Club huddled in for a team photo. Gabriel Abril, a sixth grade science teacher and former mine worker for 15 years, and Alexia Robles, an eighth grade math teacher, accepted a certificate of appreciation for participation in the Adopt a Highway Volunteer program for the past five years. 
These two led the morning trash expedition northbound from the group recognition sign at mile marker 156 to clear a generous and easily walked area. Abril gave a final safety call for the team, including to respect sounds or sightings of any rattlesnakes by walking away.
I caught up with Kloe, a student volunteer, who was inspecting a discarded Arizona Lottery ticket (obviously not a winner!). The volunteers seemed to enjoy the morning and camaraderie that goes along with all good scavenger hunts. While scouring the landscape, a few of the students identified a desert horned lizard, one of Arizona's harmless reptiles.
DeeAnn Jensen, a fifth grade teacher and new Adopt a Highway coordinator, contacted me in late 2020 to learn more about getting started with a group of student volunteers. Jensen told me the tradition began five years ago with a former colleague who was an active member in the community and promoted civic duty. 
"Our school and district follows the Wild CATS Code: Care about each other, Act respectfully, Try our best and Show pride and perseverance," Jensen said. "We recite this code every day after the Pledge of Allegiance. We want our students to take pride in themselves and their work and also be a productive member of society. Adopting a stretch of highway fosters our CATS Code and goals for our students."
Jensen shared what adopting this section of highway means to the volunteers. "We live in a mining town and there is a lot of commuting. Hours at the mine are long and consist of shift work and everyone seems to be in a rush. There are some people who work at the mine who don't live in our community and will drive every day to go home to their town an hour or more away. Sadly, this opens the opportunity for trash to be dumped out into the desert by the highway."
Morenci is a temporary relocation for some, but for others it's a home. Mining is a way of life. While Jensen is not a native to the community, her belief in civic duty and community pride is revealed in the advice she gave for others getting started in the program.  
"Spread the word about your cleanup. Anyone 12 or older is able to attend, even if they are not in your club. Bring gloves to your cleanup. You don't know what you will find or how dirty and long it has been out there. Plus, in some areas picking up trash in Arizona means encountering stickers, thorns and weeds." 
Thank you to the students, family and faculty from Fairbanks Middle School Science Club who welcomed me to participate in the volunteer cleanup event. I could not be more proud of the spirit exhibited by these young men and women who spent a Saturday morning clearing 13 bags-worth of trash from their two-mile segment. 
The community and copper mining operations of Morenci are situated along US 191 in Greenlee County on Arizona's eastern border.
For more information about supporting highway litter reduction visit Adopt a Highway. Need motivation? Find it in the Adopt a Highway News!