Adopt a Highway: National CleanUp day is in the bag
Adopt a Highway: National CleanUp day is in the bag
By Mary Currie / ADOT Communications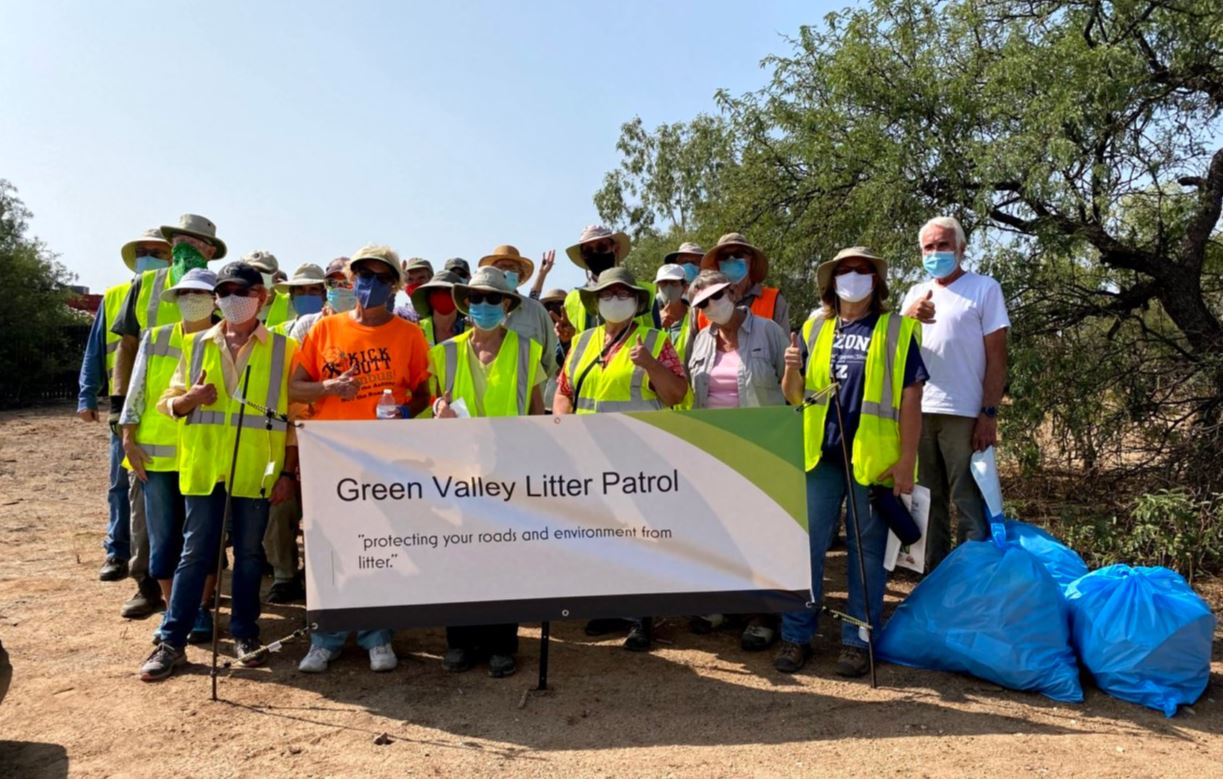 This year marks the third in a "call to action" for Adopt a Highway group participation on National CleanUp Day. 
More than 60 volunteer groups and hundreds of volunteers in 13 Arizona counties displayed community pride by caring for their adopted segments. 
This year ADOT offered one-day permits to interested participants. A few have already decided they want to move forward with adopting a stretch of highway for future cleanups! Those volunteers will receive a group recognition sign at their designated area. We want to thank all volunteer groups and individual participants who came out to remove litter this year.  
Litter reports are beginning to roll in with only 15% of groups reporting 200 bags of litter collected. Last year 100% reported 196 bags collected statewide, so this is just the beginning of a huge win for Arizona and our beautiful communities.
This year, the Adopt a Highway event registration portal launched for the first time, capturing four times the number of groups participating in 2019. 
Registered groups that complete the activity report to let us know the number of litter bags filled and other volunteer data, will receive an electronic certificate of appreciation created for this event. 
A special thank you to the many volunteers who welcomed our onsite visits during our 392-mile journey on Saturday.  Here's what a few group leaders had to say about their volunteer experience:
"What a great way to contribute to our community and keep Arizona clean and grand — and we're having a blast." - Yvonne McLemore, first-time participant and one-day permit turned permanent adoption. 
I asked Rick Winfrey, a one-day volunteer, on State Route 79 , what the significance was for cleaning up this portion of the highway. He told me that he has been a frequent traveler of this road over the last 20 years: "It's very pristine out here. I love the saguaros and the raw desert. It was time to take a leap and adopt a mile." 
Rick also moved forward with a permanent highway adoption across from the Tom Mix Memorial and near the Town of Florence. The volunteer group sign is a memorial to beloved family members, two labrador retrievers. "Forever in our hearts, Opie & Maggie Winfrey."
National CleanUp Day is celebrated annually in the United States on the third Saturday of September. It promotes both organized and individual cleanup events and volunteering to keep the outdoors clean.
Erica Barron is a group leader representing an adopted segment on SR 79 near Oracle. She says, "Arizona is such a beautiful state. I think it is awe inspiring and keeping our state clean and beautiful is all of our responsibilities. It makes me feel great that I can be a part of the beauty of Arizona."
Pat Barron said, "I believe keeping Arizona clean helps to preserve the natural beauty of Arizona, and that's what I'm about." Pat expanded on some of the treasures found along the highway during their cleanups and challenged others to "come on out and join us!" 
Gene Van Dyken, group leader for Green Valley Litter Patrol south of Tucson said, "It's a feel-good thing, definitely. If we don't proactively go out there and pick it up, it's not going to get done." Gene leads a robust team of more than 30 volunteers. Their volunteer group removed a whopping 93 bags of litter on Saturday and the days leading up to National CleanUp Day. The Green Valley Litter Patrol is pictured in the photo above right. 
Stay tuned to for updated event information and more volunteer stories on the ADOT Blog. And learn more about a few fantastic partners in this cleanup effort - Don't Trash Arizona and My Beautiful PHX.  If you would like to learn more about adopting your own stretch of highway please visit the Adopt a Highway website or email us.