Adopt a Highway: Outstanding volunteers in Leupp gather to remember community leader Mary R. Clay
Adopt a Highway: Outstanding volunteers in Leupp gather to remember community leader Mary R. Clay
By Mary Currie / ADOT Communications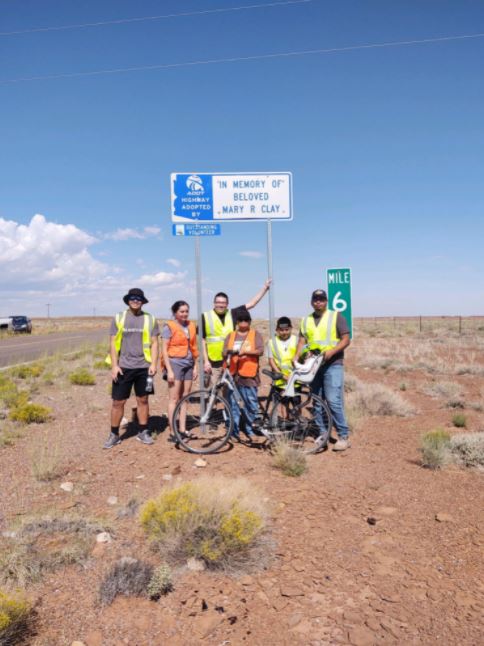 Patsy Schultz' inspiration for volunteering for the Adopt a Highway program comes from Navajo elder Mary R. Clay who passed away in 2008. Schultz adopted a 2-mile segment to honor her memory the same year. She described Clay as a mother, sister, aunt and grandmother to many in the community. 
"Clay lived her life to the fullest and passed on at 102 years of age. She taught us the importance of keeping our Mother Earth clean, in addition to taking care of ourselves, our children and helping out one another. Her spirit lives on as we do the highway cleanup," said Schultz.
Schultz and six volunteers gathered for National CleanUp Day and collected six bags of trash plus vehicle parts and a car fender strewn along their adopted segment. The dedicated group from left to right in the photo: Andrew Simanu, Sirena Begaye, Chris Celaya, Patsy Schultz, Adriano Yazzie and Kyle Descheenie. Not shown is Lillie Yellowhair, behind the camera. 
A closer look at the photo reveals an Outstanding Volunteer placard underneath the recognition sign at the lower left. The added recognition signifies a volunteer group that collects litter and reports it to ADOT three or more times per year. 
Leupp is located along SR 99 in Coconino County—about 30 miles northeast of Winslow. The community is situated in the southwestern region of the Navajo Nation.  
If you are interested in adopting a segment of highway in memory of your loved one or simply caring for mother earth, please visit the Adopt a Highway website to learn how.