Adopt a Highway: US 89 volunteers 'Keep it grand' on the Arizona-Utah border
Adopt a Highway: US 89 volunteers 'Keep it grand' on the Arizona-Utah border
By Mary Currie / ADOT Communications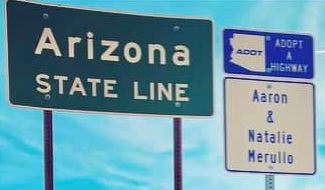 It could be said that Aaron and Natalie Merullo are a special welcoming committee for travelers crossing the stateline from Utah into Arizona.
The couple maintains the first mile of US 89 when motorists from Utah cross the stateline into Arizona. The Merullos' Adopt a Highway Volunteer recognition sign marks the site of a dedicated effort to reduce the impact of littering. The unfortunate truth is that litter distracts travelers from the roadside beauty of Arizona.
What better way to showcase Arizona than a pristine highway, a metaphoric red carpet for visitors and residents alike? Visitors traveling US 89 southbound from the Arizona-Utah stateline are treated to photogenic travel destinations, like Glen Canyon Dam, Horseshoe Bend and Sunset Crater Volcano National Monument. All that on less than a half-tank of gas.
"We chose this mile because it's closest to our house," Aaron said. "But I love US 89. It's a great route for a road trip. Natalie encouraged us to volunteer. She wanted to make the highway look better in our neighborhood, but it's also the first impression of AZ, so we thought it was an important stretch."
This is home to the Merullos, who live and work near the adopted segment. They drive by the "Welcome to Arizona" sign every day, which carries a new significance to them. In November, the couple tagged ADOT on Facebook, highlighting a recent clean-up effort at their adopted mile.
"Our advice to other volunteers would be to clean in the spring and fall when the weather is cool and there are no snakes around," Aaron added. "We found a few personal items when cleaning and enough cash to take ourselves out to dinner that night."
Arizona has hundreds of unadopted miles available that can use your help. If you are interested in starting your own group, visit us at azdot.gov/adoptahighway.