Adopt a Highway volunteers are appreciated
Adopt a Highway volunteers are appreciated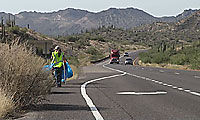 Adopt a Highway volunteers never can predict what they're going to find out on the road…
From discarded cigarettes and fast food wrappers to cake mix and bobble heads (see video above), they have not only seen it all, but they've picked it all up.
We're thankful for the approximately 1,570 volunteer groups who currently adopt an Arizona highway. It's hard to believe, but roughly 335 of the groups have been volunteering for more than 10 years and of those, 50 have been with Adopt a Highway for more than 20 years!
ADOT's Adopt a Highway coordinator Stephanie Brown says new groups are always welcome. Volunteers are especially needed outside of the Phoenix area … the biggest need is in Yuma, Kingman, Safford, Holbrook and Tucson.
The groups that volunteer do it for various reasons, but there's always big opportunity for a rewarding experience as exhibited in the video above.
"I wanted to remember my son and I saw the Adopt a Highway sign and thought, 'wow, his name could be up there on that highway forever,'" says volunteer Bonwyn Streich.
This is the sixth year Streich has picked up litter along a mile-long stretch of SR 87 (Beeline Highway) in memory of her son.
Missy Acuff volunteers along with Streich and says she'd like to see even more groups adopt a highway.
"I believe in karma," she said. "You do something good and it comes back to you tenfold … we need more people who want to do this."
Information on volunteering can be found on the Adopt a Highway webpage. You can also read a little more on how the Adopt a Highway program and its volunteers benefit Arizona in our blog post from last May.