Adopt a Highway volunteers keep roadways beautiful
Adopt a Highway volunteers keep roadways beautiful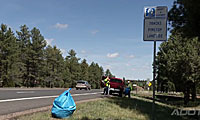 An unbelievable amount of litter gets picked up by Adopt a Highway volunteers each year.
We're talking about several TONS of trash…
Of course we wish that litter wasn't an issue at all, but we're so grateful to the volunteers who give their time to help keep our highways beautiful.
"It's important because we don't have all the resources we need to pick up litter with paid services or our own staff," says ADOT Roadside Maintenance Manager Mark Schalliol in the video above. "There's a variety of reasons that people want to volunteer and get involved … they just want to do something and give back to the community "
Find additional details on our Adopt a Highway page. You can also check out our previous videos and blog posts for more information.