Adopt a Highway: Is your puzzler sore?
Adopt a Highway: Is your puzzler sore?
By Mary Currie / ADOT Communications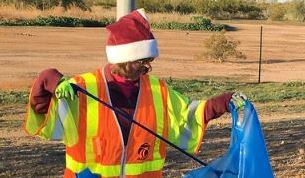 Is your puzzler sore?
It's a fair question and it happened to a beloved holiday character whose evil ways were transformed during a wintry self-realization experience.
Location? A pointy and litter-free cartoon mountain top. Our character and thief, relieved a small town of the holiday feast. A beast. Nevermind the ribbons, tags, packages, boxes and bags looted from the tiny village.
And yet, none of the shiny items littered the pathway to that slim and snowy summit. The tinsel and shiny packaging that could easily have been blown from the sled were objects of a desperate and misguided spirit.
But something rad happened on that ridiculous sea wave of a peak. A deep and puzzling experience that prompted goodness and a change of heart in the antagonist.
As the story goes, each present and holiday food item was returned to the grateful villagers in the nick of time. And not one package or tag from the well-secured sled was found along the icy road side during the flurry of swirling gifts and products from village to peak and back again.
A miracle indeed. Or was it?
Thank you to ADOT volunteers who help keep our villages and not-so-pointy mountains litter-free. If you want to learn more about the program no need to puzzle— click here. Happy Holidays!