From the ADOT Archives: Weatherometer
From the ADOT Archives: Weatherometer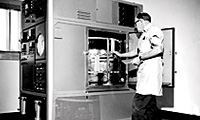 Remember when we told you about ADOT's Accelerated Weathering Tester?
It was just last month when we featured that piece of equipment and told you how ADOT's Materials Testing team uses it to analyze paint.
Well, today we found out that something similar was being used a few decades ago...
It is called a Weatherometer and the photo below was taken in 1972. Unfortunately, we don't know exactly when the above photo was captured – we're guessing it's probably from the start of the 1970s, or maybe even earlier.
These photos were snapped inside the old ADOT Chemistry lab, which we're told is now a parking lot.
We were also informed that back then, the old Weatherometer was primarily used for asphalt evaluations. However, it was also used for paints and plastics like the accelerated weathering tester is used now.
It's safe to say things have changed since 1912 when the Arizona Highway Department was first established. But you don't just have to take our word … we've got plenty of pictures to prove it. We combed through our archives and decided to periodically post these photos from the past in a blog series we're calling, "From the ADOT Archives."