ADOT briefs other states about I-17 wrong-way vehicle alert system
ADOT briefs other states about I-17 wrong-way vehicle alert system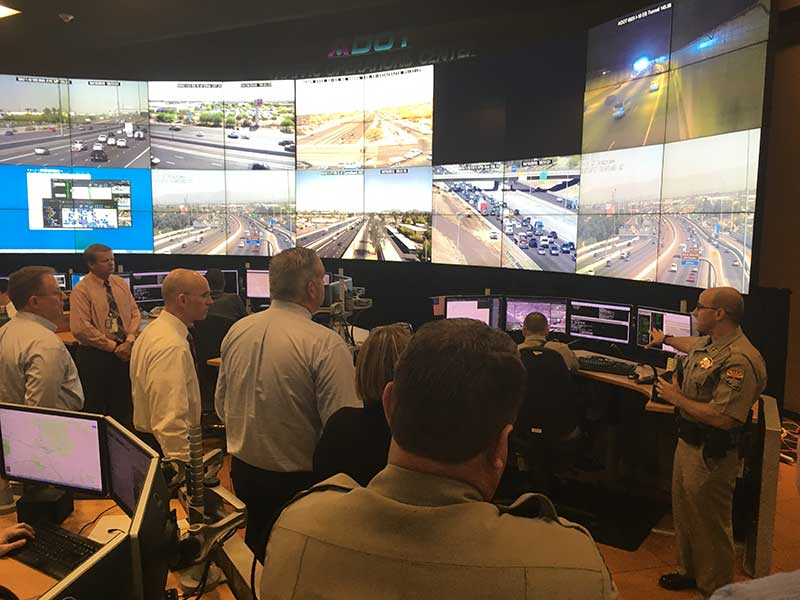 By Doug Nintzel / ADOT Communications
With last year's installation of the pilot Interstate 17 wrong-way vehicle detection and warning system in Phoenix, the Arizona Department of Transportation has looked ahead to sharing information about the project with other states also responding to challenges involving often-impaired wrong-way drivers.
An opportunity to do that happened this month when members of ADOT's Transportation Systems Management and Operations Division staff, as well as the state Department of Public Safety and the Federal Highway Administration's Arizona Division, held a peer exchange with law enforcement and transportation officials from California, Florida and Texas.
Those attending the event at ADOT's Traffic Operations Center in Phoenix had a chance to learn more about the first-in-the-nation wrong-way vehicle system using thermal detection cameras, 90 of them in all. It has been in operation since January along a 15-mile stretch of I-17 between the I-10 "Stack" interchange and the Loop 101 interchange in north Phoenix.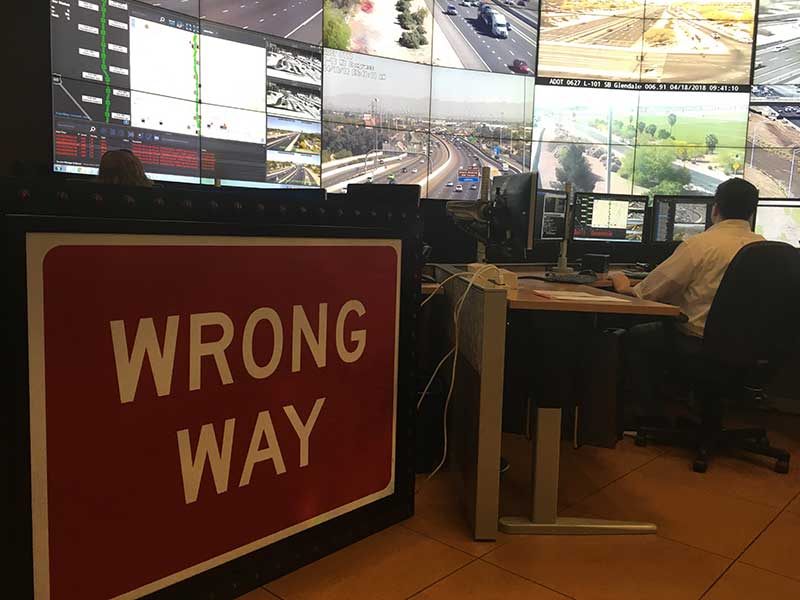 Speakers from ADOT and DPS emphasized the strong partnership between the two agencies as a side-by-side effort to reduce the risk of wrong-way vehicle incidents along state highways, including Phoenix-area freeways.
A tour of the Traffic Operations Center's control room highlighted how operators are prepared to respond to an alert of a wrong-way vehicle. DPS discussed the recent decision to have state troopers stationed at their own control room console 24 hours a day.
The around-the-clock presence provides DPS with expanded communication with troopers out in the field who need to be ready to respond if alerts or calls about wrong-way vehicles come in.
ADOT's $4 million I-17 wrong-way alert system, funded by the Maricopa Association of Governments, features an innovative computerized decision support system to manage communication among key components.
The system's thermal cameras are positioned to detect wrong-way vehicles entering I-17 off-ramps, immediately triggering new illuminated wrong-way signs with flashing red lights aimed at getting the attention of the wrong-way driver.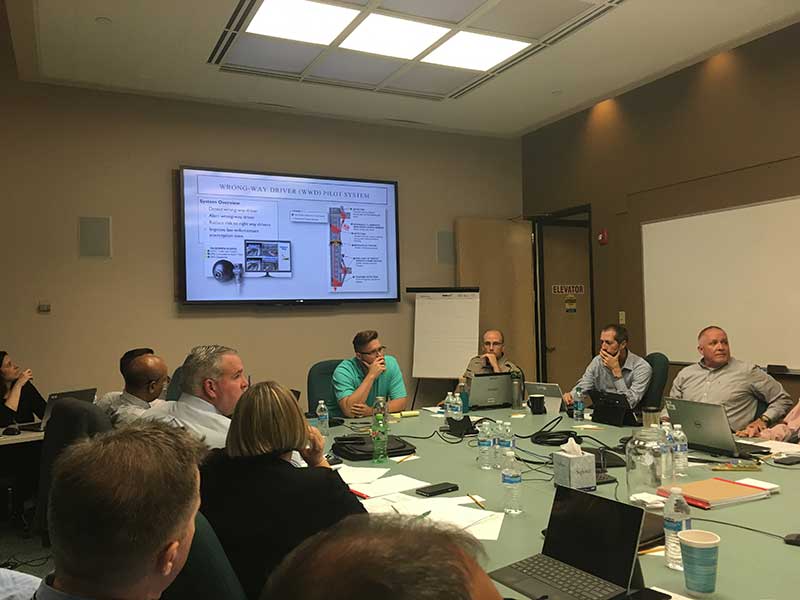 A detection also instantly alerts ADOT and DPS, allowing faster communication with troopers and local law enforcement instead of depending on 911 calls from other freeway drivers. ADOT in turn can quickly warn drivers with wrong-way vehicle messages on overhead freeway signs.
Technology, including the I-17 system, cannot prevent all wrong-way crashes from happening. The primary goal, as shared with the representatives from other states this week, is to reduce the risk of serious crashes by saving valuable time for law enforcement response and for warning other drivers.
ADOT continues to work with DPS and the Governor's Office of Highway Safety to promote efforts to stop impaired driving, a leading factor in wrong-way crashes.