ADOT continues progress on US 89 landslide repair
ADOT continues progress on US 89 landslide repair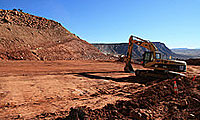 Crews on the US 89 landslide repair project have moved a lot of dirt and rock over the past six months…
To be exact, they've moved one million cubic yards of material! The work has included almost daily drilling and blasting operations in order to realign the roadway and construct a downslope rock buttress to stabilize the area. In the slideshow above, you can see photos that were taken on the project site just last month – check out the heavy-duty equipment required for the massive effort.
Project milestone
Right now, crews are done with the earthwork and will be moving on to the final phase of the project to restore the highway.
Substantial work has been completed and crews started this week on building the foundation of a newly-realigned 1,500-foot section of US 89. Once the subgrade is finished, the roadway can then be paved.
With the completion of the earthwork and construction of the buttress, ADOT remains on target to reopen the highway prior to the busy summer tourism season in the Page/Lake Powell area.
Looking back
It was two years ago this month that the roadway suffered serious damage following a landslide on the early morning of Feb. 20, 2013 and has remained closed after a 500-foot section of roadway buckled in Echo Cliffs, two miles north of the US 89/US 89A junction near the community of Bitter Springs.
To read about the project's progress over the past two years, please revisit our previous posts.