ADOT equipment 'Roadeo' focuses on safety, skills
ADOT equipment 'Roadeo' focuses on safety, skills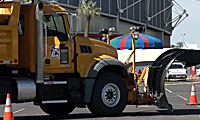 At this year's Safety Partnering Roadeo, which was held March 26-27 at the State Fairgrounds facility in Phoenix, ADOT welcomed more than 400 people to participate in over 66 classes and various safety/training events…
But, what's a roadeo?
There's no roping, bull riding or barrel racing at an ADOT roadeo, but you will find plenty of events designed to test the skills and knowledge of equipment operators from all around the state.
Four components make up the two-day event that's open to not only ADOT employees, but also equipment operators in the private sector and from other governmental agencies.
There's a driving course, which is designed to test an operator's ability to maneuver a vehicle through a series of obstacles. The main objective is to complete the course without hitting any of the obstacles and to operate the equipment in such a way as to demonstrate safe and proper equipment operation.
Next, there's an equipment inspection that challenges an operator's ability to perform a pre-trip inspection on the pieces of equipment on which they'll be competing with. There are several safety and/or mechanical defects that must be identified on the unit inspected from a list of 50 possible defects.
Operators also have to complete a written test that factors into their overall score.
Most importantly, there's the safety training – this is the primary focus of the roadeo and several safety training breakout sessions were held this year.
Judging from the video above, this year's event was a good mix of friendly competition and lots of safety training, which is a big benefit to participants.
"The guys can go back and say, 'hey, there's something new out there I learned,'" says Highway Operations Manager Ron Curtis. "The more information you get, the better you are."
ADOT's Director of Safety and Risk Management Sonya Herrera explains the safety emphasis.
"We had about 419 people who attended training for a total of 703 hours," she says in the video. "So this really does help make traveling on the state's roadways, as well as those of our municipal partners, safer."