ADOT hits milestone for South Mountain Freeway construction
ADOT hits milestone for South Mountain Freeway construction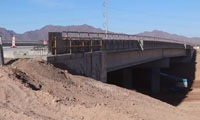 By Laurie Merrill / ADOT Communications
For an agency that justifiably prides itself on meeting traffic milestones, this is still a pretty big one: the opening of the first bridge over what will be the Loop 202 South Mountain Freeway.
This is the first time in five months that drivers in Laveen can continue motoring on Elliot Road without exiting before crossing the freeway right of way near 59th Avenue.
It's also the first of 40 planned bridges along the South Mountain Freeway to open to motorists.
The 272-foot span is yet another step toward opening the 22-mile freeway by late 2019 and providing a much-needed direct connection between the West Valley and East Valley.
Since Elliot Road closed at the 59th Avenue, crews have constructed more than 2,000 feet of roadway improvements, including installing underground utilities and drainage structures, building retaining walls and moving more than 300,000 cubic yards of earth to create bridge approaches and ramps.
There's more to come to complete the interchange: Crews will pave ramps and the mainline freeway and work on signage, lighting, final striping, signals and landscaping.
For more information and to sign up for project updates, please visit SouthMountainFreeway.com.