ADOT identifies long-term US 89 repair solution
ADOT identifies long-term US 89 repair solution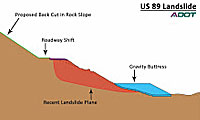 The geotechnical investigation on US 89 (you know – that one we've been blogging about since February) is complete and we're thrilled to share news of the results…
Based on a comprehensive study of the area (one that has included geologic mapping, subsurface exploration and monitoring, laboratory tests and slope stability analyses), a proposed long-term solution to repair the damaged highway near Page has been identified. It will involve cutting back the mountain slope and constructing a gravity buttress wall. The repairs, at an estimated cost of $40 million, could take more than two years to complete.
The geotechnical report
If you've been following along on the blog, you already know that just about immediately after the landslide occurred, ADOT began assembling a team of geotechnical experts to examine the stability of the mountain slope and searching for options available to reopen the roadway. That months-long investigation produced a 463-page report that concludes the recent landslide was a reactivation of a small portion of an ancient landslide, but little to no new movement has occurred since testing began.
The report also lists several alternatives for the ultimate repair of US 89, but the construction of a landslide buttress and upslope lane adjustment was considered the most geotechnically feasible preferred alternative.
The buttress, a wall-like support structure composed of rock, would be built at the base of the slope and the highway travel lanes would be moved farther to the east by creating a new cut into the existing slope in the Echo Cliffs (see graphic above). In addition to the buttress, the report reviewed several other alternatives.
Moving forward
At a later date, ADOT will formally request additional federal aid to fund the repair of US 89 through the Federal Highway Administration's Emergency Relief program, which reimburses state and local jurisdictions for the repair or reconstruction of highways, roads and bridges damaged in natural disasters and catastrophic failures.
ADOT has also worked with the Navajo Nation, Navajo Division of Transportation, Bureau of Indian Affairs and FHWA to restore mobility to the area as soon as possible by paving Navajo Route 20, a 44-mile-long route, which (ADOT identifies long-term US 89 repair solution once paved) will significantly reduce travel time for motorists heading to and from Page and the Lake Powell area. Construction on N20 started in late May and is scheduled to be complete in August.