ADOT Kids: Here are your safety messages!
ADOT Kids: Here are your safety messages!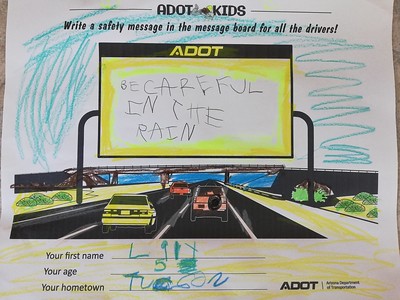 EDITOR'S NOTE: During this unprecedented time, ADOT is creating transportation activities for kids. Please visit azdot.gov/ADOTKids or use the hashtag #ADOTKids on ADOT's Twitter, Facebook and Instagram accounts to see what we have going on. 
By Steve Elliott / ADOT Communications
Wow! Thank you for all of the safety messages you kids shared with us over the past week. 
From this one by Bria in Peoria ...
WATCH WHERE YOU'RE GOING
WE'RE NOT PLAYING 
PIN THE TAIL
ON THE DONKEY
... to this one by Allisson in Gila Bend ...
DON'T SPEED
OR YOU WILL BE
SPEEDILY IN JAIL
... every one of these creative messages showed how much you all care about keeping Arizona safe. We had a great time reading them. 
As promised, the video at right has Doug Pacey, our safety projects manager in ADOT Communications, answering your questions and featuring some of your messages. I hope you enjoy it. 
Before we show your art, I hope you're all making freeway decorations for this week's ADOT Kids activity. And in addition to sending us your designs, please share questions about the new Loop 202 South Mountain Freeway. That's the largest single highway project in Arizona history. One of the people in charge of building that 22-mile freeway will answer questions about anything that interests you, from the designs to the bridges to the pavement. Please send your questions to [email protected]. 
Now let's look at your great messages!