ADOT Kids: It's National CleanUp Day!
ADOT Kids: It's National CleanUp Day!
By Mary Currie / ADOT Communications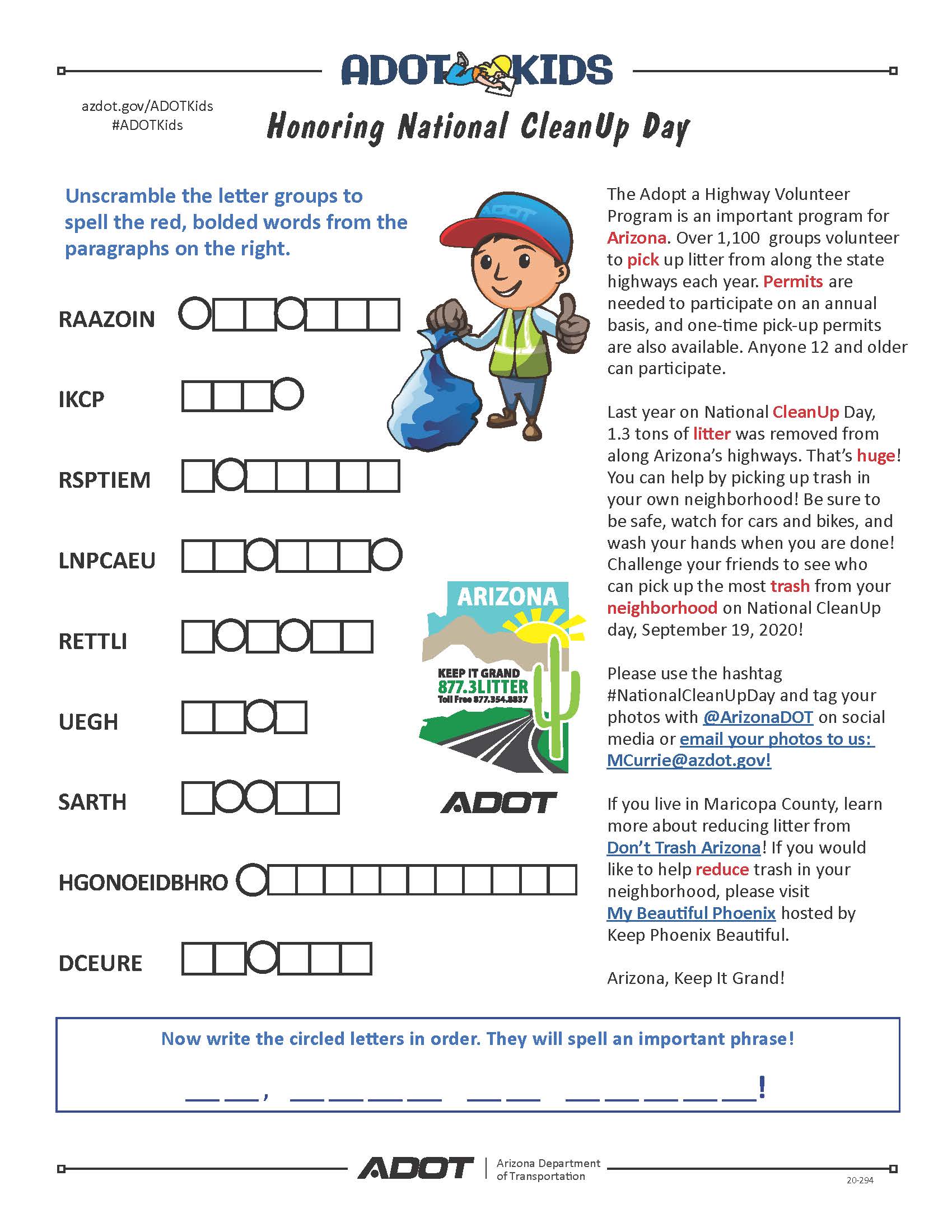 Did you know that today, September 19, is National CleanUp Day? 
That's right, today is the day when everyone is encouraged to help keep our outdoors looking great by picking up litter.
Last year on National CleanUp Day, 1.3 tons of litter was removed from along Arizona's highways. That's huge! You can help by picking up trash in your own neighborhood. Be sure to be safe, watch for cars and bikes, and wash your hands when you are done! Challenge your friends to see who can pick up the most trash from your neighborhood!
For those too young to join in, but still want to show their support for keeping Arizona, we have a Adopt-a-Highway-themed ADOT Kids word search and scramble! Download your own copy by clicking on the activity sheets below.
If you are able to get out there and help today, please share your experience with us! Use the hashtag #NationalCleanUpDay and tag your photos with @ArizonaDOT on social media or email your photos to us: [email protected].
The Adopt a Highway Volunteer Program is an important program for Arizona. Over 1,100  groups volunteer to pick up litter from along the state highways each year. Permits are needed to participate on an annual basis, and one-time pick-up permits are also available. Anyone 12 and older can participate.If you live in Maricopa County, learn more about reducing litter from Don't Trash Arizona! If you would like to help reduce trash in your neighborhood, please visit My Beautiful Phoenix hosted by Keep Phoenix Beautiful.
Arizona, Keep It Grand!