ADOT to launch new driver license process and design
ADOT to launch new driver license process and design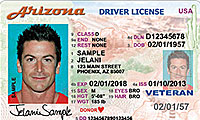 Did you know that Arizona's first law requiring drivers to be licensed was put into place back in 1927?
Imagine how those first licenses looked. Probably nothing like the one you have in your wallet right now. As much as Arizona driver licenses have changed over the past 87 years, they're continuing to evolve.
Drum roll, please…
Today, we're unveiling a newly designed license, complete with enhanced security features to safeguard personal information and help prevent identity theft (see photo above). There's also going to be a new process involved with getting your license.
New license, new process
Beginning June 16, 2014, ADOT's Motor Vehicle Division is expanding central credential issuance to all offices statewide, meaning that customers visiting a MVD office to obtain a new driver license or identification card will leave with a temporary credential. The permanent license or identification card will be mailed to the customer, and received within 15 days.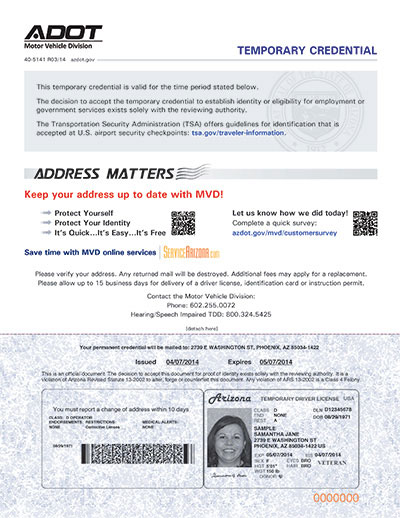 Coupled with that, ADOT is launching a new, high-security credential format. Both changes are designed to protect against identity theft.
What if I don't want a new license?
If you have a license (that hasn't expired), you don't need to do anything. A current driver license or identification card will still be valid until its expiration date – or at least until the 12-year mark when the photo needs to be refreshed. The price of a duplicate credential remains unchanged – $12 for many customers.
How is the new process different?
Customers at ADOT MVD offices will no longer immediately be issued a new permanent driver license or identification card at the end of the application process. The credential will instead be mailed to the address on the resident's application. It is important to ensure the correct mailing address has been provided in order to receive the credential. Address changes can be made online at azmvdnow.gov.
At the MVD office, you will receive a temporary driver license or identification card. It will contain a photo and the basic information that appears on the actual credential. As in other states that have moved to this process, the decision to accept the temporary credential as proof of identity exists solely with the organization requesting to see the license or identification card.
The process of central credential issuance is used by most states around the country and is a growing trend as states transition to higher-security credentials.
More to come
We'll have more blog posts and reminders about this change in the coming weeks. But before we sign off, we just want to point out some of the new security features on the new license and identification cards:
A larger primary portrait with a smaller redundant ghost portrait ensuring customer appearance is clearly reflected.
A high-security design comprised of unique Arizona geological features in the background created by using many different patterns, lines and images. This provides the overall look of the credential.
A laser perforation in the shape of Arizona, which when held up to the light is used to quickly authenticate the credential.
Tactile date of birth field to assist in authenticating the credential using the sense of touch. The date in this field will have a raised feel to it.
Tri-color Optically Variable Device consisting of the state outline, the state name "Arizona," the state seal, a saguaro cactus and a star. This laminate overlay provides the final layer of the credential and provides one more feature for authentication.
The ringtail, the state mammal, is illustrated on the front of the new credential.
For additional information, please visit our MVD Web page.