ADOT launches 'Safe Phone Zones' at 14 highway rest area locations
ADOT launches 'Safe Phone Zones' at 14 highway rest area locations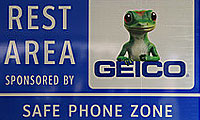 When you're taking your next road trip through the state, you'll likely notice our new signs that designate each of Arizona's 14 highway rest area locations as "Safe Phone Zones."
The signs are part of a nationwide effort to encourage drivers to pull into a safe location to use their phones for calling, texting and accessing mobile apps. They're also the result of a partnership with GEICO.
This sponsorship program is part of ADOT's rest area public-private partnership program, which we told you about last October, and is ADOT's first fully implemented public-private partnership. Under this five-year agreement, Infrastructure Corporation of America, a private company, manages the daily maintenance and operations of the rest areas, and has implemented a sponsorship and advertising program to generate revenue for reinvestment in the rest areas. The GEICO sponsorship is the first one to move forward. ADOT still owns all 14 rest areas.
As you can see in the video above, ADOT Director John Halikowski was joined earlier this week at ADOT's offices in Phoenix by representatives from the Arizona Governor's Office of Highway Safety, GEICO and Infrastructure Corporation of America to unveil the new Safe Phone Zone signs.
"ADOT's top priority is safety and we are committed to educating the public about the dangers of distracted driving," said Director Halikowski. "These Safe Phone Zones provide travelers with the opportunity to pull into a rest area where they can use their phones safely and responsibly. We are able to move this project forward because of the legislation enacted to generate public-private partnerships in Arizona — partnerships that have proven to be an innovative approach to funding transportation projects with non-traditional funding sources."
ADOT is one of several state departments of transportation to implement public-private partnerships to move public transportation projects forward with private investment. For more information about ADOT's public-private partnership program, go to azdot.gov/P3.