ADOT project will help make trips to the airport smoother, faster
ADOT project will help make trips to the airport smoother, faster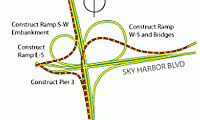 Few situations are as stressful as hitting traffic on your way to the airport … especially if you're holding on to that non-refundable ticket for a trip out of town.
But, with more than 100,000 passengers arriving at and departing from Phoenix Sky Harbor International Airport each day, there's bound to be some congestion every once in a while.
That's why ADOT is working on reconstructing the State Route 143/Sky Harbor Boulevard Traffic Interchange to improve access to and from the airport.
This project includes the addition of southbound auxiliary lanes, which allow motorists the ability to merge or continue to the next exit, as well as new interchange ramps and signage.
The two new ramps are being constructed on SR 143 to help commuters get directly in and out of the airport … that direct access should cut a few minutes off drivers' commutes!
A third ramp will connect commuters traveling on westbound Sky Harbor Blvd. directly onto southbound SR 143 … this should help ease the traffic congestion at the intersection of Sky Harbor Blvd. and SR 143 by allowing drivers to bypass the intersection all together and gain quicker access to I-10.
The project also includes the reconstruction of a ramp on the east side of SR 143 to make for a safer and smoother roadway.
Valley residents and motorists passing through the area can also look forward to new directional signage and enhanced landscaping once the project is complete.
Work started in mid-January and should be finished by summer 2012. Travel impacts will include lane restrictions and closures of SR-143, Sky Harbor Boulevard and adjacent on- and off-ramps. ADOT continues to partner with Valley cities and the airport to minimize this impact.