ADOT seeks input for redevelopment of 511 site
ADOT seeks input for redevelopment of 511 site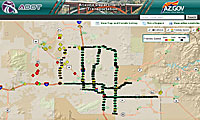 Yesterday we showed you how the crew at ADOT's Traffic Operations Center works to keep motorists informed of what's happening out on the roads…
We mentioned the az511.gov website (as we frequently do) and told you how its one of many ways that the traveling public can get information. Today, we wanted to let you know that a project is getting underway to redevelop the 511 Traveler Information System website, but first, ADOT is seeking your input.
AZ 511
The Traveler Information System – both the az511.gov website and the 511 phone line – are designed to provide accurate, up-to-date information for drivers and travelers. The system provides data on crashes, construction-related restrictions, weather, planned closures and other events that impact mobility around Arizona.
Last month, there were nearly 54,000 visits to the az511.gov website. Usage typically spikes during the winter storm season and when summer monsoon storms hit the state.
How you can give your thoughts
ADOT is reaching out to drivers and users of the current az511.gov site to create an outline for a redesigned site that better meets the expectations and needs of travelers around the state. This is the first major revision planned for the az511.gov site since 2010!
To let us know what you think, all you've got to do is complete a brief, 12-question survey.
We appreciate your time and will continue to keep you updated as the redesign project progresses!