ADOT seeks public comments on SR 77
ADOT seeks public comments on SR 77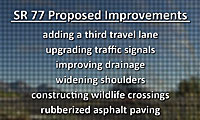 We want to hear from you!
Public involvement is the key to designing a roadway that improves traffic flow and enhances safety. As ADOT works with the Federal Highway Administration and the Regional Transportation Authority to widen Oracle Road (SR 77) from Tangerine Road to the Pinal County line, our ears are open to comments, questions and concerns.
Proposed improvements include widening Oracle Road from two lanes to three lanes in each direction. This work will tie into the recently widened section of the highway from Calle Concordia to Tangerine Road.
Other proposed improvements include:
10-foot-wide shoulders (7-foot-wide with curb in Catalina) for cyclists
Rubberized asphalt
Raised center medians and left-turn lanes in the Catalina area
Traffic signal improvements
Drainage improvements
Replacing shared-use path on the east side of Oracle Road from Wilds Road to Mainsail Boulevard
Retaining walls and noise walls (if required by environmental study)
Three wildlife crossing structures to allow wildlife to migrate safely between the Santa Catalina and Tortolita mountains, without crossing the roadway at street level. (The crossing structures are made possible through the RTA and are planned to coincide with the ADOT project).
So, how can you get your voice heard? Visit the project page to email your comments or find out more information on SR 77. Public comments are an important part of the project!